Fans queue for hours to meet Mile legend Sir Roger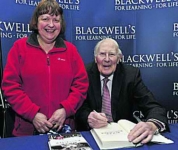 April 15, 2014
"He is a legend. He shattered the record and inspired generations of all nations."
By Oxford Mail
Sports fans waited up to four hours to meet their hero.
Sir Roger Bannister, the man who ran the first ever Mile under 4 minutes at Iffley Road sports track in 1954, signed copies of his autobiography, at Blackwell's, Oxford, on Saturday.
The 85-year-old, who travelled from his North Oxford home with wife Moyra, said: "I wrote it so people could read it."
The book, Twin Tracks, recalls how, when his record-breaking time was announced, the crowd at the track heard the words "three minutes" and their cheering drowned out the rest.
Continue reading at: www.oxfordmail.co.uk