Here Comes Mary Cain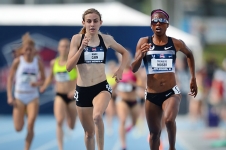 July 01, 2013
Just 17, the self-described nerd from Bronxville High, N.Y. has emerged as the fastest young female middle-distance running in U.S. history; now she'll take on the best Open runners at the World Championships this August in Moscow
By Tim Layden, Sports Illustrated
In some distant, imagined future she does historic things. Running with a long, brown ponytail floating behind her like a vapor trail, she wins gold medals, breaks world records and restores track and field to a place where little girls dream that someday they will be just like Mary Cain. Or in another version of that same future, she is injured or overwhelmed and never finds the greatness that once seemed imminent. It's not possible to know which will happen, despite America's collective obsession with thrusting outsized expectation onto the most gifted young athletes. Whatever her path, whether to greatness or obscurity, there will never be another moment in her life quite like this one, when every race is fast and every day is sweeter than the one before.
She is less than two months past her 17th birthday, a year shy of high school graduation and now indisputably the most precocious female middle-distance runner in U.S. history. Last Saturday afternoon in blistering sunshine and angry winds at Drake Stadium in Des Moines, Cain broke open the 1500 meter run at the USA Outdoor Track & Field Championships with a brave, and very grown-up, burst of speed just under a lap from the finish, then held on for second place to claim a spot on the U.S. team for the World Championships in Moscow in August. She is the youngest U.S. athlete to make a worlds team since the event began in 1983.
Cain's performance, in which she was caught in the final strides by training partner Treniere Moser, 31, was the latest in a six-month string of transcendent races. In 2013 she has broken U.S. indoor and outdoor high school and/or Junior records in six events at distances from 800 through 5000 meters including a 4:28 indoor Mile. She also became the first U.S. high school girl to break two minutes (1:59.51) for 800 and ran 4:04.62 for 1500, a time that, in combination with her sensational finishing speed, puts her on the cusp of challenging the best runners in the world. She will have that opportunity in the coming weeks as she trains in Europe with members of the Nike Oregon Project, whose coach, Alberto Salazar—who coaches her as well—expects Cain to race a 1500 in London on July 26 and possibly run at an earlier meet in Monaco before heading to the worlds.
She is caught for now in a giddy limbo, with one foot stretching into a very adult athletic and media world that stands poised to heave a huge slab of the sport's future across her slender shoulders, and one foot hanging back in Bronxville (N.Y.) High, where her friends—"We're the nerds of the grade," she says. "I am a complete nerd, I am not cool at all"—will chide her for taking only two AP classes next year instead of a possible five. (She insists that a globe-trotting track and field career "should count for at least four APs.") After busting up her elders in the 1500 field in Iowa, the 5'6", 113-pound Cain came rushing into the media interview area clutching a tiny yellow stuffed duckie named Puddles. Following a recent training session in Park City, Utah, she blessed herself in the team van, prompting Salazar to ask if they had passed a roadside memorial that he had missed. "No," said Cain, both a Catholic and an animal lover, "there was a dead deer back there."
On Sunday morning she sat in a quiet hotel lounge in downtown Des Moines, still excited about selecting her USA gear at formal team processing the previous night. She is both suddenly famous in a small way and suddenly quite stunned by that fame. "It's so weird that people tweet about me," she says. "And my Facebook is overwhelming. I don't want to hurt anybody's feelings by not accepting their friend requests, so I don't accept anybody, then I get the big in-box." She doesn't have her own Twitter account, but there's a fake Mary Cain account. ("I'm pretty interesting on there," says Cain, mock seriously.) Her phone is a low-tech, text-and-calls-only Verizon Razzle. Cain says, "I'm a dinosaur." But a smart one: She avoids track-website message boards, which can be vicious and are demographically disconnected from her world. "All those old men [critiquing her]," she says.
Continue reading at: si.com/vault/