Hiltz, Nuguse win 2022 Sir Walter Miler titles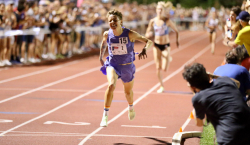 August 05, 2022
Each champion also earns $5000 bonus for North Carolina state record; 12 men go sub-4
From Sir Walter Running
RALEIGH, NC - On a warm, humid summer Friday night with a loud crowd at the 8th Sir Walter Miler, athletes had extra incentive to go after the North Carolina state Mile records held by Shannon Rowbury and Edward Cheserek. At the Athlete Dinner on Thursday, longtime SWM sustainers, Dr. Mark Graham and Dr. Laneta Dorflinger, announced they would offer a $5000 incentive if either of these records were broken.
In the women's elite race, last year's runner-up, Nikki Hiltz, made a commanding move with 250 meters to go to secure the win over Eleanor Fulton. Hiltz's time of 4:21.89 was a personal record (#9 U.S. woman all-time outdoors), and improved upon Lauren Johnson's meet record of 4:25.04 from 2016, and Rowbury's state record of 4:22.66, which was set indoors in 2015 at JDL Fast Track in Winston-Salem.
"The main goal was to win, time was second," said Hiltz, who pocketed $6500 and led Fulton (4:23.65) and Raleigh native Elly Henes (4:27.66) to PRs as well.
On the men's side, Bowerman Track Club's Sean McGorty took the lead just before the final lap, but in the end, Yared Nuguse had the top closing speed over the last 100 meters. Nuguse, an NCAA 1500m champion and 2020 U.S. Olympic team member, won in a state record and PR time of 3:53.34, besting Lopez Lomong's meet record of 3:53.86 (2018) and Cheserek's state record of 3:53.85, also set indoors at the JDL Fast Track in 2018.
"It's about putting myself in a position to where I can truly give everything I have at the end, and I was able to do that today," Nuguse told Colleen Quigley after the race. "The legs are feeling good, honestly."
Nuguse led 12 men under the coveted 4-minute mark, include first-timers Rob Heppenstall (3:55.15), Dan Michalski (3:57.25), Alec Basten (3:58.55) and Benjamin Allen (3:59.40). Festus Lagat (3:54.02) and McGorty (3:54.51) would round out the podium.
Overall, $18,600 was awarded in prize money including time incentives.
The event was held at Cardinal Gibbons High School, where record crowds surrounded the track in the style that has made the Sir Walter Miler unique. It was the 8th year of the event, which now boasts 69 sub-4 Mile performances on the men's side, and 28 sub-4:30 Mile performances on the women's side. The event was broadcast live on RunnerSpace.com.
8th Sir Walter Miler
Raleigh, NC, Friday evening, August 5, 2022
WOMEN
1) Nikki Hiltz, lululemon, 4:21.89*, $6500 ($5000 state record & $500 MR bonus)
2) Eleanor Fulton, 4:23.65, $1250 ($500 bonus under meet record)
3) Elly Henes, adidas, 4:27.66, $500
4) Gabbi Jennings, adidas, 4:31.78, $250
5) Christina Aragon, 4:32.81, $100
6) Katie Camarena, 4:33.19
7) Emily Richards, Tracksmith, 4:33.41
8) Maddie Strandemo, Oiselle/Littlewing, 4:34.39
9) Aisha Praught-Leer (JAM), Puma, 4:35.27
10) Megan Mansy, 4:36.31
11) Molly Sughroue, Tracksmith, 4:36.82
12) Hannah Steelman, On, 4:37.51
13) Charlene Lipsey, Tracksmith, 4:45.78
*State record (previous state record, 4:22.66i, Shannon Rowbury (USA / OR), Winston-Salem, 01/31/15) and meet record (previous record,4:25.04, Lauren Johnson, 2016)
MEN
1) Yared Nuguse, On Athletics Club, 3:53.34*, $6500 ($5000 state record & $500 MR bonus)
2) Festus Lagat (KEN), Under Armour, 3:54.02, $1000
3) Sean McGorty, Bowerman Track Club, 3:54.51, $650
4) Vince Ciattei, Oregon Track Club, 3:54.79, $500
5) Rob Heppenstall (CAN), 3:55.15#, $300
6) Jye Edwards (AUS), adidas, 3:55.90, $100
7) Rorey Hunter (AUS), adidas, 3:56.26, $100
8) Paul Ryan, adidas, 3:56.49, $100
9) Sam Prakel, adidas, 3:56.59, $100
10) Dan Michalski, Nike, 3:57.25#, $200
11) Alec Basten, 3:58.55#, $100
12) Benjamin Allen, Empire Elite, 3:59.40#, $100
13) Jonathan Davis, Atlanta TC Elite, 4:00.62
14) Matt Wisner, New Generation T&F, 4:01.01
15) Amos Bartelsmeyer (GER), Bowerman Track Club, 4:05.00
*State record (previous NC state record, 3:53.85i, Edward Cheserek (KEN / OR), Winston-Salem, 02/04/18) and meet record (previous record, 3:53.86, Lopez Lomong, 2018)
# first sub-4 = $100 bonus
Sponsors of the 2022 Sir Walter Miler are Waverly Hematology Oncology, Think Promotional Group, Greater Raleigh Sports Alliance, COROS, North Raleigh Family Eyecare, ElliptiGO, Athletic Brewing Co., Sanctuary Vineyards, On, Trophy Brewing Co., LMNT, Duke Health and JDL Fast Track.
The Sir Walter Miler is directed and promoted by Sir Walter Running, a Raleigh-based 501(c)(3) nonprofit organization whose mission is to "bring the Greater Raleigh running community together through innovation, activation, and inclusivity." Sir Walter Running is a USATF club that produces the Pop Up Miles series, the Raleigh RunDown Downhill Mile (which takes place this Saturday), the Raleigh (Holiday) Half Marathon and the Summer of Miles podcast.
Photo credit: John Nepolitan