How Many Medals Can the U.S. Middle Distance Women Win in Beijing?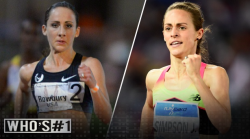 July 22, 2015
Rivalries aside, the 2015 World Championships and 2016 Rio Olympics will be a thrill for fans of American middle distances.
By Meg Bellino, FloTrack
By now you've already seen or heard about Shannon Rowbury's 1500m American record. If you didn't, it came during a race where Ethiopia's Genzebe Dibaba set the new world record, a blistering 3:50.07. Dibaba's world record, a feat that many believed nearly impossible seeing that no one had come close to it since 1997, is incredible. But we're going to sit back and reflect on the Americans in this race, particularly Rowbury and Jenny Simpson. More specifically, the depth of the middle distance women in the U.S. and how we've entered quite a special time as track nerds.
Rowbury's American record of 3:56.29 bettered Mary Slaney's 3:57.12 from 1983. Slaney ran that time in 1983, the year she won two gold medals at the Helsinki World Championships in the 1500m and 3000m. She was the world record-setter of the 1980s, similar to Dibaba in today's time.
It took nearly 32 years for Slaney's 1500m mark to break, and now we have two ladies capable of medaling on the world stage (because I know they already have in previous years but this is focused on 2015 people!).
Continue reading at: flotrack.org