How to Run Your Fastest Mile Ever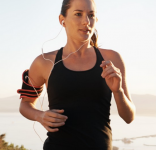 March 18, 2016
You need a combo of speed, strength, endurance, flexibility and coordination to really drop your Mile time with our six-week training plan
By Rozalynn Frazier, Health Magazine
Training for a 26.2? Not us. We're aiming to run a single Mile—super quick! And we aren't the only ones: According to Bring Back the Mile, an organization that promotes this distance, there are more than 800 Mile-long races in the United States—up from 600 five years ago.
Don't scoff at the shorter span; it's actually a real challenge. "The Mile hurts," explains Joe Holder, a Nike trainer and running coach in New York City, who notes that you need a combo of speed, strength, endurance, flexibility, and coordination to really drop your time. "You start fast and end faster, and the acclimation period is much shorter due to the distance, so there's no 'easing into' your target pace."
Ready to go for speed? Try these tips from Holder, then scroll down for his exclusive six-week training plan.
Continue reading at: news.health.com