'I gave it everything': Sir Roger Bannister marks 60 years since his record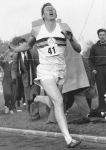 May 03, 2014
The Daily Telegraph, at the time, described it as "sport's greatest goal", something "as elusive and seemingly unattainable as Everest".
By Harry Wallop, The Telegraph
As with so many moments in British history, it came down to the weather. On the morning of May 6, 1954, it was raining steadily across the south of England and the wind was blowing hard.
Roger Bannister's mood matched the skies above. Then a medical student, he was also Britain's best middle-distance runner, whom many people were tipping to become the first man in the world to run a Mile in less than four minutes.
But he was also the man everyone had predicted to win gold at the Olympic Games in Helsinki two years previously. He came fourth. The headlines screamed he was a failure.
The memory of Helsinki exacerbated his state of mind. He knew that the wind would slow him down by about a second a lap -- and the Mile was four laps long.
He says: "I was feeling I would be wasting my effort to run in those circumstances with the time having to be the equivalent of 3:56; I wasn't sure I could do 3:56."
Continue reading at: www.telegraph.co.uk