Jenny Simpson recounts epic season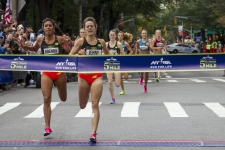 September 19, 2014
"There's two really high-level goals: Running faster than I ever have, which would place the American record in my sights, and winning medals."
By John Meyer, Denver Post
Jenny Simpson returned to Boulder on Thursday after completing an epic season on the international track circuit, winning the season-long Diamond League 1500 meter crown. She is the second American woman to claim that distinguished title.
Simpson won a gold medal at the 2011 World Championships and a silver medal at the 2013 Worlds, but this achievement meant more because it represented excellence across the season.
"I think it is still settling in, at a deeper level," Simpson said. "The significance of this surpasses, for me, anything that I've ever accomplished in a single race. This is about putting together a season that surpassed any other season of any woman in the world (in the 1500). I've never been able to say that before. The level of fitness and the demonstration of courage I've had throughout the season is something that is worthy of that #1 ranking. I'm really proud to look back and think, 'Oh my gosh, we put that together.' "
The only other American woman who has won the Diamond League 1500 season title is Morgan Uceny, who did it in 2011.
Simpson finished in the top three in five of her six Diamond League races and won the last two, Aug. 21 in Stockholm and Aug. 28 in Zurich to clinch the metric Mile title. In Paris on July 5, she came within .1 of a second of Mary Decker Slaney's 31-year-old American record, running 3:57.22.
Continue reading at: www.denverpost.com