John Walker sets world record in time trial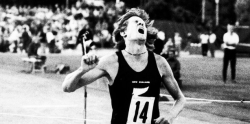 August 11, 2015
In Gothenburg 40 years ago, Mile legend Walker had to front-run it, as he suspected would happen anyway, "but I didn't bargain running as much on my own".
By David Leggat, New Zealand Herald
Of the big three, it's the performance that tends to slip the mind. To a point you understand why, even though John Walker's performance at Gothenburg on a windy evening 40 years ago holds an everlasting place among the great athletic achievements.
People of a certain age easily remember his brilliant duel with Filbert Bayi at the Christchurch Commonwealth Games in 1974, when both men broke the world record in the 1500m final.
Two years later, Walker followed in the footsteps of Jack Lovelock and Peter Snell in winning the Olympic 1500m gold in Montreal.
So how has becoming the first person to run under 3 minutes and 50 seconds for the Mile tended to sit in the mists of time for all but genuine athletics enthusiasts?
Continue reading at: nzherald.co.nz
Mile world record progressions HERE.