Kipyegon claims emotional second Olympic 1500m title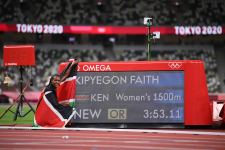 August 06, 2021
"She's the greatest of all-time... she doesn't get enough credit."
By Nicole Jeffery for World Athletics
Faith Kipyegon was given the ultimate accolade by her closest rival after winning her second consecutive Olympic 1500m crown in Tokyo tonight.
Asked about Kipyegon's standing, silver medalist Laura Muir did not hesitate to declare: "She's the greatest of all-time".
"She doesn't get enough credit," Muir added. "She's won everything there is. I've got a lot of respect for her and I'm very, very happy to see her winning gold and I'm honored to be behind her in that race."
Three years after giving birth to her first child, Kipyegon ran the fastest women's 1500m ever seen in the Olympic arena to retain the title she first won in Rio five years ago. She is the first athlete to win back-to-back Olympic 1500m titles since Sebastian Coe in 1980 & 1984.
Olympic champion in 2016 and world champion in 2017, Kipyegon had her daughter Alyn in 2018 and returned to training just eight months before the World Championships in Doha in 2019, yet still managed to set a personal record as she finished second to Sifan Hassan that year.
With two more years of training behind her, Kipyegon had clearly found an extra gear leading into the Olympic Games. She defeated Hassan convincingly in her last race before Tokyo, the Wanda Diamond League meeting in Monaco last month, and repeated that feat in the Olympic stadium.
Olympic 5000m champion Hassan, with two 5000m races and two 1500m races already in her legs, made the brave decision to take the lead after just 300m and try to blunt Kipyegon's superior finishing speed.
Hassan led the race for 1000 meters, but Kipyegon was perched on her shoulder the whole way, just waiting to strike, which she did with lethal effect with 250m to go.
The Kenyan, who trains in coach Patrick Sang's camp with Eliud Kipchoge, gapped Hassan in moments and sprinted away to claim victory in an Olympic record of 3:53.11.
"I knew Sifan Hassan is a very strong athlete, and I knew she would go fast because she wanted the gold," Kipyegon said. "I knew she was going to lead very quickly. I really wanted to follow her and see what would happen at the finish line."
She said she was more motivated by thoughts of her daughter than of making history.
"Once I crossed the finish line, it was a very emotional moment for me," she said. "I thought about my daughter who I left behind at home. She wanted me to bring home a gold medal, and I am so happy and excited I did that."
European champion Muir, for so long a contender who could not quite find a place on a global podium, broke through to win the silver medal in a national record of 3:54.50, after passing the tiring Hassan with 150m to go.
It is as much a medal for persistence as excellence.
"It feels very, very good - just relieved to have finally won a medal and for it to be an Olympic silver is amazing," she said.
"Since Rio (Olympic Games 2016) it's been five years of wanting this medal and missing every single time just by a little bit. And finally to come away with this medal is great. It's just so surreal. So, so surreal."
Hassan's quest to win an unprecedented distance treble over 1500m, 5000m and 10,000m ended with the bronze medal in this race (3:55.86) but she may yet become a dual gold medalist in tomorrow night's 10,000m final.
She said she could not have done more tonight and was already turning her attention to the 10,000m.
"For now, it is all about taking enough rest in order to be able to race again tomorrow," she said. "I am happy with how it all goes, but I feel stressed every day. There is nothing else to do but to focus on Saturday's race. I am focusing on that already. The body is very tired (but) I need it for tomorrow."
She admitted she was still feeling the after-effects of the moment when she fell in the 1500m heats and had to chase down the pack to qualify for the next round.
"Ever since that moment I feel super tired," she said. "The last couple of days have been very stressful, and it has taken lots of energy from me."
The challenge will not be any easier in the 10,000m, where she will face the woman who took her world record in June, Ethiopia's Letesenbet Gidey.
Complete event results: heats, semis and final HERE