Kipyegon obliterates Mile world record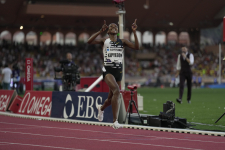 July 21, 2023
The first Kenyan to set the Mile world record; 7 national records as well as all 13 finishers clocked personal records in Monaco
Nicole Jeffery for World Athletics
Was it ever in doubt?
Faith Kipyegon continued to plunder the most revered middle distance marks in the sport, setting her third world record in 50 days on Friday at the Herculis meeting in Monaco.
The two-time Olympic and World champion has marched across Europe in the last seven weeks like a latter-day Caesar. She started this imperious run of Wanda Diamond League form in Florence on June 2, when she became the first woman to run 1500m in under 3:50. She then conquered Paris a week later, this time splintering the 5000m record, before laying siege to the iconic Mile in Monaco.
On a hot and humid evening, Kipyegon did not allow anything to distract her from the prize. She locked in immediately to the world record pace being marked by flashing lights inside the track and relaxed into an easy rhythm for three laps.
But at the bell she charged out like a prize fighter, punching the world record into the dust with every stride. The pacing lights were a distant second as she skimmed around the track to stop the clock in an otherworldly 4:07.64, more than four seconds faster than the standard her long-term rival Sifan Hassan set on the same track four years ago (4:12.33).
Kipyegon, who earned $60,000 ($10,000 for the win and $50,000 WR bonus), expected this performance, but that did not lessen her delight as she lay on the track afterwards, kicking those million-dollar legs in the air in glee.
"I really enjoyed the race," she said. "I came for that, I wanted to chase the world record."
The 29-year-old won by almost seven seconds – more than half the length of the straight – despite three women behind her setting area records, six setting national records and 12 setting personal records.
Ireland's Ciara Mageean set a national record in second (4:14.58) and moved to fifth on the world all-time list, just ahead of Ethiopia's Freweyni Hailu (4:14.79). Fourth-placed Laura Muir set a British record (4:15.24), fifth-placed Jessica Hull set an Oceanian and Australian record (4:15.34) and sixth-placed Nikki Hiltz set a North American and U.S. record (4:16.35), breaking Mary Slaney's nearly 38-year-old mark; American Elise Cranny, 8th in 4:16:47, was also under Slaney's old mark.
Hailu (6), Muir (7) and Hull (8) also entered the all-time top 10 performers. Also, the top 8 recorded the best times for 1-8 place in the women's Mile.
But none could touch Kipyegon, who is so confident of her form now that she intends to take on both the 1500m and 5000m at the World Athletics Championships Budapest 23 next month, and she has every chance of completing the rare double. It is one of the few accomplishments left for the living legend.
Mile world record progression HERE.