The Leo Manzano Interview: London 2012, Centro, Webb and more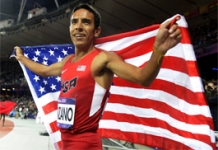 December 23, 2016
I want to motivate others to believe in themselves, and that was one of the key things I could do with that medal.
By RunnersTribe.com
Why do you run?
Leo Manzano: The first thing that comes to mind is that I love it but it goes deeper than that. I run for myself and for my family. However, I find that over the years the reason changes slightly. As I grow older I appreciate the little things more than ever like the people who have supported me throughout the years. So I'd also say, one of the biggest reasons why I run is for those that have believed and supported me throughout the years.
How has being a father impacted your life and running career?
LM: I remember being in the London Olympics and stepping onto the line and thinking about home, knowing that my son was about to be born which was a big motivator before the race. My mindset was focused on that I wanted to run well for everyone but I really wanted to run well for him. I felt as though being a father and in my case having a son, gives you extra strength.
Continue reading at: runnerstribe.com