Longevity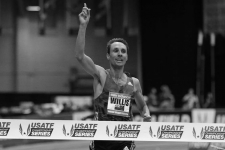 February 07, 2020
The truth is it takes a good two years of healthy training to know what you're capable of so you've got to take the long-term approach.
By Nick Willis for Spikes
As a teenager, I never thought it would last this long. What did I think of back then?
I hope that I can make it to the Olympics. I hope that I can make a final. Maybe I'll even win a medal.
But racing the world's best at the age of 36? No, that was never in my plans. I always thought that by the time I hit 30, my body would have given out.
But year-on-year, that attitude started to change.
Psychologically, I've never felt old. Growing up, I was the youngest in my grade. I'm the youngest of my siblings, the youngest of my friends. That attitude always carried over into athletics. But more and more, you get reminded of your age. Someone comes up before a race and says, "Can I warm up with you, sir?"
"Sir?"
But then it hits you: I'm almost twice his age.
But that doesn't make me want to walk away. I've been to four Olympics already, and I'd love to make it a fifth in Tokyo.
People sometimes ask about the key to my longevity and, while I don't have anything concrete, I have theories.
Number #1: Sleep
I've always gone to bed early and woken up at a consistent time and it's only in recent times I've realized how valuable that is for athletes. When I was a teenager, I went to bed at 9:00pm and woke up at 7:00am, always getting 10 hours of sleep. In college, even when I partied a little more, I always went to bed at a good hour.
In recent times I've been reading a lot about REM sleep and it's such a huge component in recovery. Because I'm always getting the full amount of sleep and not disrupting it with alcohol – which affects REM sleep – it's an area of the athlete lifestyle I've done right ever since I was a kid.
Number #2: Patience
I've taken a day off each week almost all of my career which has, for the most part, helped me stay on the right side of overtraining.
I've still had a high number of serious injuries: four surgeries, several stress fractures and several strained tendons and muscles. All of those required at least three months out and that's the hardest thing for most athletes: Can they afford financially to go through that rehab process properly? I was lucky to have great sponsors – Reebok in the early part of my career and now adidas – and they always allowed me to dedicate proper time to rehabilitation.
The third factor in my longevity is more subtle, but equally important. For the past several years, my family has traveled with me throughout the year.
A lot of athletes spend so much time away from their family and that drains on you, but I never feel like I'm away from home because we're always together.
My wife, Sierra, is both a coach and manager for me and with our two kids, we're a family business. Instead of staying at meet hotels we'll often book our own apartment, shop in local grocery stores, see the sites together. Because of that, I don't feel the exhaustion of wanting to stop this.
Don't get me wrong. There are times I want to move on in life but by-and-large, I enjoy the routine. It's mostly getting out and getting fit, enjoying the trails and exploring God's creation. The hard stuff is only the final ten percent: the workouts and gym sessions.
I learned so much of what I know from my older brother. Steve was a sub-4-minute Miler, but had to stop running with knee problems at the age of 25.
When I was a teenager, my father's anxiety about Steve's injuries carried over to me, which paved a straight and narrow path for my career. Even at 17, I was very, very cautious about managing the overall volume, the types of training and the surfaces I was running on.
I've always erred on the side of being healthy and under-trained rather than over-trained, tired or injured.
Continue reading at: spikes.worldathletics.org