Marcus O'Sullivan Inducted to Athletics Ireland Hall of Fame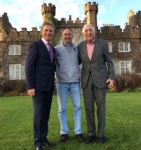 December 02, 2016
Villanova head coach and 4-time Olympian earns top honor for his worldwide accomplishments in the sport including 101 sub-4 minute Mile races, #3 all-time
From Villanova.com
DUBLIN, Ireland -- Villanova men's track & field head coach Marcus O'Sullivan was inducted to the Athletics Ireland Hall of Fame on Wednesday morning, November 30 at the Irish Life Health National Athletics Awards. He earned the top honor at the annual awards ceremony while surrounded by some of the most legendary figures that have been a part of the Wildcats storied track & field history. Also honored as part of the Hall of Fame festivities was fellow Villanovan and O'Sullivan's one-time coach Donal Walsh. The inductions and other annual awards were presented by Athletics Ireland at the Crowne Plaza Hotel, Northwood.
O'Sullivan's induction to the Hall of Fame was an opportune moment to consider the past, present and future of the Wildcats track & field program. Villanova legends Ron Delany and Eamonn Coghlan, each previous Hall of Fame inductees, were on hand to help honor O'Sullivan at the awards ceremony. Delany was the inaugural inductee to the Hall of Fame in 2007, while Coghlan earned induction a year later. Villanova University President Rev. Peter M. Donohue, O.S.A. and Director of Athletics Mark Jackson also attended Wednesday's event.
Athletics Ireland defines the annual Hall of Fame award as "being presented to an athlete who has achieved at the highest level and is considered world class. The recipients have transcended the sport and are sporting legends." Truer words could not be spoken about O'Sullivan, who is one of the worldwide greats the sport of track & field has ever seen. He was a three-time world indoor champion during his competitive career and is one of only three athletes in history to run a sub-4 minute Mile more than 100 times. In addition to his own racing career, O'Sullivan is now in his 19th year as the Frank J. Kelly Endowed Track & Field Coach at Villanova.
Continue reading, includes wonderful photo gallery of his running & coaching career (youth to Olympian to Villanova's coach) at: www.villanova.com