Mary Cain Finds Her Stride with a Coach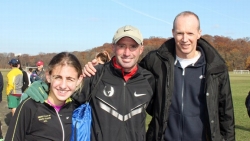 April 27, 2013
By Jane McManus, ESPN
BRONXVILLE, N.Y. -- Mary Cain was at an impasse in 2012. At 15, she was being recognized in the running community for her speed, but her passion for the sport had stalled. The pressure of expectations had sapped some of the fun.
As she watched the London Olympics with her mother, they saw the runners coached by Alberto Salazar. Cain said, half-jokingly, that Salazar should become her coach. Cain even dreamily asked out loud: "I wonder if I could get his email?"
"I guess I've always been the type of kid who looks to the stars," she said.
Fast-forward a month.
Cain was in bed nearly asleep while her mother, also named Mary, watched television in the living room. Her mom was relaxing when the phone rang. Whom do they know in Oregon? Probably a telemarketer. Her mom let it go. Then she heard Salazar introducing himself on the family's answering machine.
Continue reading at: espn.com