Mary Cain: N.Y. Teen Versus the World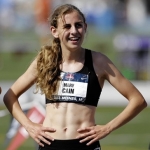 August 10, 2013
At 17, Cain is the youngest woman to run the 1500 meters Sunday at the IAAF World Championships in Moscow.
By Sara Germano, Wall Street Journal
Mary Cain's schedule on Sunday will differ from that of every other high school kid in New York or even the whole U.S.
At 17, Cain is the youngest of more than 40 women from around the globe scheduled to run this weekend in the 1500 meters at the IAAF World Championships in track and field in Moscow.
Being the youngest arguably means that Cain faces the least amount of pressure. If not this year, there's the World Championships two years from now, and after that the 2016 Olympics.
To appreciate just how long a career might lie ahead for Cain, who next month will start her senior year at Bronxville High, consider that two competitors in the 1500 Sunday are exactly twice her age: Sonja Roman of Slovenia and Natalia Rodriguez of Spain, both 34.
For Cain, running in the World Championships will mark the capstone of a season so stellar that she really can't lose Sunday. This year, she broke U.S. high school records in the 800 meters, the 1500 meters, the Mile, the 3000 meters and the 5000 meters.
Then, at the USA Outdoor Track & Field Championships in Des Moines in June, she finished second in the 1500 meters, earning a trip to Moscow.
For almost any high school student, competing in so elite a field would constitute an excellent adventure, regardless of outcome.
But it's irresistible to ask: Does she stand a chance of advancing to the semifinals? Or better yet, the final on Thursday?
On the face of it, the answers are yes to the semifinals and no to the final. Her 1500 meter best of 4 minutes, 4.62 seconds this season may have broken the record for a female American high school student.
But in the world it ranked 26th. It was more than seven seconds off the best 1500 run by a woman this year, in this case Sweden's Abeba Aregawi.
While several of the world's fastest female metric Milers have dipped below four minutes, no American high school girl has ever done so. Barely a quarter of the opening field will make it to the final.
But Sunday's race will not necessarily go to the swift. In fact, the pace could be downright slow, at least until the final lap.
Continue reading at: http://online.wsj.com