Masters Mile champion Marisa Sutera Strange's common sense running advice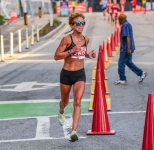 December 23, 2019
The physical education teacher learned to be nicer to herself, to take the pressure off at races and to be grateful that she's out there.
By Sarah Lorge Butler, Runner's World
For 56-year-old Marisa Sutera Strange, 2019 will go down as a banner year in a career full of them.
In February, she won the Masters race outright at the USATF Cross Country Championships in Tallahassee, Florida, besting women 15 years younger.
In August, she ruled the roads, winning the USA Masters 5K age group title in Atlanta in 18:38. And a week later, she ran the USA Masters Road Mile Championships in Flint, Michigan, in 5:27.18, an American 55-59 age group record.
Perhaps her most satisfying win came in September, when she broke the tape at the Dutchess County Classic 5K in Poughkeepsie, New York, near her hometown of Pleasant Valley. It was her 20th win in a row at the event! Sutera Strange said she was pushed by a couple of women in their early 20s. Other runners often cheer for her on the out-and-back course as she's running by, and she'll acknowledge them. Not this year.
"At the turnaround, I saw the girl [right behind me], and was I like, 'Okay, there's no fooling around here, you've got to step on it,'" she said. "I usually comment back to people when they're cheering for me. They're like, 'Go, Marisa!' and they're so sweet and kind. This year I really couldn't say anything back. I did a couple of waves and a couple of grunts."
For her achievements throughout the year, USATF named her the Masters 55–59 division road runner of the year.
What are her secrets? The physical education teacher learned to be nicer to herself, to take the pressure off at races, and to be grateful that she's out there. Here's how she does it, in her own words:
I used to run in the morning, early morning. But I found that I was getting injured a lot. I wasn't warmed up, I was rushed, I was worried about getting to work, when my kids were younger, I had to get them on the bus. It just became unpleasant. It took the fun away from running. I moved it to after work. The only problem is, there are times you can be so tired. I go out there and my legs feel like lead.
Today I had a meeting, and I went out to run and I was like, I kind of have to give in to that tiredness. I said, "You know what? It's going to be slow today. And that's okay." I think that's part of respecting your body and really listening to your body, knowing it's okay to have those days.
When you're younger, you push through; that's how you were trained. In high school, and college, you do it, no matter what. As you get older, it's such a fine balance. Of course you want to push yourself to your optimum. But at the same time, you have to respect your body. And it's really hard.
We all have these watches now—you clock everything and you see how far you go and how fast you go and you get really wrapped up in this. I don't even look at it. It's about being outside, the quiet of winter or the sounds of summer.
Continue reading at: runnersworld.com