Centrowitz, Andrews make 2016 IAAF World Indoor Championship 1500 Final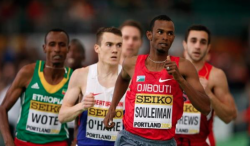 March 19, 2016
"It felt alright, as alright as a prelim round can feel. Things got a little choppy out there. [On getting elbowed] It's part of racing, it's all good. I'm excited [heading into finals], just got to try to get in a good position and see what happens." - Matthew Centrowitz
By LetsRun.com
If they gave gold medals for prelims, Matthew Centrowitz would have been taking a victory lap in front of the home fans tonight at the Oregon Convention Center. But finals, unlike Centrowitz's relatively stress-free prelim, are messy affairs, and they introduce different math. Tonight, the reward for first, second and third were exactly the same. When Centrowitz and the finalists reconvene on Sunday afternoon, the stakes will be significantly higher.
At the World Indoor Championships, all of the big names — Centrowitz, Ayanleh Souleiman, Nick Willis, Robby Andrews — advanced with ease to the final, but none looked as smooth as Centrowitz. Quick recaps of the heats with analysis and post-race video below.

Heat 1: Centro is Magnificent
After this one went out slow (400m 67.16, 800m 2:10.68), there was some jostling as the pace picked up after 800. Then, Centro made two simples moves and won the heat with ease.
Continue reading at: www.letsrun.com