Matthew Centrowitz continues his family legacy with 1500 meter win at U.S. Olympic Trials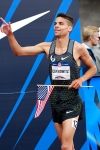 July 19, 2016
"Kind of a cool stat was that his first team he made, he finished second, and his second team he won as well. Just another reason for me to follow in his footsteps. Like father like son."
By Jarrid Denney, Daily Emerald
Coming into the U.S. Olympic Trials 1500 meter final, each of the men in the 13-man field was prepared for a fast pace.
Only five of the runners had achieved the Olympic qualifying standard prior to the event on Sunday, July 10, and each of the eight men on the outside looking in were aware that their finish position didn't matter if they didn't hit the standard.
Six of the runners in the field had University of Oregon ties, and Sunday represented their last chance of the season — and for some of them, the last chance of their career — to grasp an Olympic berth.
In the end, Matthew Centrowitz of Nike Oregon Project sat patiently and survived a torrid opening pace before he turned on the jets with 200 meters to go and buried a group of runners he has been racing against since his college days.
Centrowitz won in a season-best time of 3:34.09 to capture his fourth U.S. title in the past six years. The victory also provided a personal milestone for the former University of Oregon star: with the win, Centrowitz matched his father Matthew Centrowitz, Sr. in both U.S. titles and Olympic team berths.
Continue reading at: www.dailyemerald.com