Matthew Centrowitz sharpens his focus as the USATF Championships approach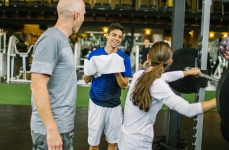 June 21, 2015
"I have silver and bronze, at this point," Centrowitz said. "I don't think it's arrogant for me to say that's the goal in the back of my head."
By Ken Goe, The Oregonian
The big goal this year for Matthew Centrowitz is to stay focused.
So far, so good.
With doping allegations swirling around his Nike Oregon Project training group, Centrowitz went to last weekend's New York Grand Prix and clicked off an 800-meter personal record of 1 minute, 44.62 seconds.
He didn't win. But it's not his event, and world record-holder David Rudisha was in the field.
The key here is that Centrowitz gave maximum effort and cracked 1:45 for the first time, signaling his readiness for next week's USATF Championships at Hayward Field in Eugene.
That was the kind of all-in, always-on attitude the Oregon Project coaches have been asking from him.
Continue reading at: www.oregonlive.com