Matthew Centrowitz's "Welcome to The Club" But Which Club?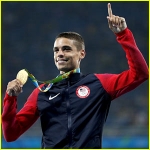 September 04, 2016
The Olympic champion played his cards to perfection. In this golden process, he thus avoided potential membership in three less exclusive clubs.
By Elliott Denman, ArmoryTrack.com
"Welcome to the club."
These are the words, whispered to Matthew Centrowitz, at the top of the podium, by Lord Sebastian Coe, that will forever resonate out of the Rio 2016 Olympic Games.
They will continue to resonate all the way to the 110th edition of the NYRR Millrose Games to be held on Saturday, Feb. 11, 2017, at the New Balance Track & Field Center at The Armory. If he chooses to compete, newly crowned Olympic champion Centrowitz, for sure, will be a focus of major attention.
Centro would be seeking his fourth NYRR Wanamaker Mile title, beginning to move up a ladder now dominated by the likes of legends Bernard Lagat and Eamonn Coghlan.
His 2016 NYRR Wanamaker Mile win was surely an omen of big things to come in Rio – his meet-record 3:50.65 win over Nick Willis' 3:51.06, with Brit / Oklahoman Chris O'Hare a right-up-there third in 3:52.91 – was an incredible crowd pleaser.
In another Rio-Millrose connection, the NYRR Wanamaker Mile is now positioned as the grand finale of a Saturday Armory schedule already full of highlights. Similarly, the Olympic 1500 final came on the final day of action at Estadio Olimpico.
Continue reading at: www.armorytrack.com