Medtronic TC 1 Mile Features Today's & Tomorrow's Olympic Hopefuls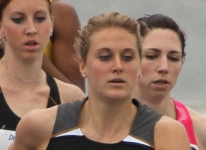 May 10, 2012
USA Championship on Nicollet Mall culminates evening of road racing
ST. PAUL, Minn. – (May 10, 2012) – A talented blend of familiar faces and emerging stars will race down Nicollet Mall on Thursday, May 17th at the Medtronic TC 1 Mile which again plays host to the USA 1 Mile Road Championships.
The Medtronic TC 1 Mile, organized by Twin Cities In Motion, features an evening of races for runners of all ages and abilities. Action kicks off at 6:50pm and culminates with the USA Championships races at 7:53pm (women) and 8:03pm (men). In all, more than 3,000 runners are expected to compete in this exciting 8th edition. The event has hosted the last three USA 1 Mile Road Championships.
A festive Nicollet Mall atmosphere – where Minneapolitans enjoying the downtown nightlife cheer runners along the route – makes the Medtronic TC 1 Mile a unique event on the Minnesota and national running calendar.
Headlining this year's championship fields are a pair of runners with Olympic aspirations: 2011 USA 1 Mile runners-up Heather Kampf and Aaron Braun.
Kampf, a Minneapolis resident, a former University of Minnesota superstar, and a member of the Twin Cities-based Team USA Minnesota, looks to use a home course advantage to become the first Minnesotan to win the USA 1 Mile title.
Braun, a Flagstaff, Ariz. resident, is known for his wide range as a distance runner. The Adams State College (Colo.) graduate was the 2010 USA Club Cross Country Champion and has finished in the top-three at USA Championships a half-dozen times at distances ranging from the mile to 15-kilometers.
"We're pleased to have Heather and Aaron back at the Medtronic TC 1 Mile to chase the titles that eluded them last year," Twin Cities In Motion Executive Director Virginia Brophy Achman said. "I marvel at Aaron's abilities to compete successfully at so many distances and, in Heather's case, we'd love to see a Minnesota runner win a USA title in her home state."
The Medtronic TC 1 Mile is an important waypoint for athletes like Kampf and Braun who have aspirations of making the U.S. Olympic Track & Field Team this year for the London Games. The pair and the rest of the championship field will battle for a total of $22,500 in prize money, plus a pair of $10,000 course record bonuses.
The records for the event were both set last year when David Torrence won his third-straight Medtronic TC 1 Mile title in 3 minutes, 58.4 seconds and Sara Hall clocked 4:30.8 for her first Medtronic TC 1 Mile victory.
The Medtronic TC 1 Mile is also an important event for emerging-elite athletes hoping to develop their talent for future Olympic Games. In a partnership with USA Track & Field, which sanctions USA Championship races, Twin Cities In Motion has invited six developmental athletes to the event for the opportunity to race against top competition and advance their promising careers.
"We're proud of the resources we put into the developmental portion of the field," Brophy Achman said. "Tomorrow's Olympians will come from the today's developmental ranks, so being an important part of their rise is an investment we're pleased to make for our sport."
About Twin Cities In Motion (TCM): Twin Cities In Motion (formerly Twin Cities Marathon, Inc.) is the non-profit organization that provides nationally recognized, high quality running events throughout the year, including the Medtronic Twin Cities Marathon. With a mission of promoting a healthy lifestyle through running, TCM and its charity partners contribute over $500,000 to related causes each year.
Visit www.tcmevents.org for more information.