Merber Wins, Mackey Defends Falmouth Mile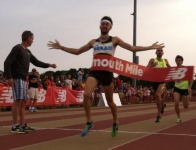 August 17, 2014
Three men sub-4 and four women sub-4:30; Tommy Cochary High School Mile goes to Russell Wells, Stella Worters
From Falmouth Road Race
FALMOUTH, Mass. – Filling the bleachers and lining the rails, hundreds of fans turned out on Saturday evening to cheer the athletes at the Falmouth Mile, which marked its 19th year as one of the top events for the storied distance in the United States.
In the women's professional Mile, Katie Mackey defended her 2013 title, clocking a personal record of 4 minutes, 27.78 seconds (and her first sub-4:30). The 26-year-old from Seattle, WA, who earlier this year helped set at U.S. record in the 4x1500-meter relay, tucked in right behind the pacemaker for the first 1000 meters, and then decided to keep taking the brunt of the head-wind on the backstretch.
"If I'm going to end up breaking the wind for everybody, I might as well make this an honest race," she recalled thinking, "and I might as well make it as hard for them to catch me as possible."
Sarah Brown almost did. Dueling down the homestretch against 2012 Olympian Morgan Uceny, the four-time NCAA champion while at the University of Tennessee finally prevailed in the final 20 meters but couldn't catch Mackey.
"You always want to win," said Brown who ran 4:28.69, "[but] the atmosphere is so cool with everyone being so close to the track. You don't normally get that."
In the men's pro Mile, which went through the first lap in 60 seconds, Garrett Heath, the 2013 USA Road Mile champion, took control of the race when the pacemaker dropped out at 1000 meters.
"Garrett's a fearless racer, and he got right on it," said Kyle Merber. "I just sat on Garrett and let him do the work. Sorry," he said, as Heath laughed.
With 150 meters remaining, the 23-year-old Merber, out of Columbia University, made a hard move, felt good, and went on to win in 3:56.45. David Torrence, the 2012 champion here, was runner-up in 3:56.95, with Heath ending up third in 3:57.19.
Both the men's and women's Open champions took home $2000. Six women also earned incentive bonuses for running sub-4:32, while three men pocketed incentive bonuses for running under 3:58.
Kicking off the evening with a win in the Girls' 1-Mile Youth Run was Ainsley Ramsey, 12, of Falmouth, MA, who took the lead on the backstretch of the third lap after hearing her father, John, exhort her to make her move. She was happy with her time of 6:12.49, but happier still with that of the fourth-place finisher.
"It's my sister's PR!" she said of 10-year-old Kyra Ramsey's 6:55.53.
In the Boys' Youth Run, 11-year-old Caleb Gartner took it wire-to-wire for a 5:47.78 victory, matched by an ear-to-ear smile at being greeted by finish-tape holders Joan Benoit Samuelson, the 1984 Olympic Marathon gold medalist, and Meb Keflezighi, the 2004 Olympic Marathon silver medalist and 2014 Boston Marathon champion.
In the Tommy Cochary Girls' High School Mile, Stella Worters was thrilled to defend her title in 5:02.50, a meet record. The new Shepherd Hill High School graduate from Charlton, MA—who will run for Williams College in the fall—went through the half in 2:33, already in the lead.
"It's awesome!" she said of her repeat victory. "I was not expecting this at all. I almost broke my PR; I'm so close to breaking 5."
Unlike Worters, who acknowledged that she had no pre-race plan, Russell Wells said that he most definitely did. Taking the lead with about 250 meters to go, Wells, of Wilbraham, MA, won the Tommy Cochary Boys' High School Mile in 4:31.25 in a close finish over Zachary Manickas-Hill (4:31.68). An 800 meter specialist, Wells knew that his only chance at victory was to sit-and-kick.
A 2014 graduate of Minnechaug Regional High School, Wells is headed to the University of Massachusetts-Amherst. When asked if he planned to run track there, he replied: "Of course."
In the women's wheelchair race, 17-year-old Katrina Gerhard, who has been named a co-caption of her Acton-Boxborough High School team next fall, took the lead early and extended it with every lap, winning in a personal record 4:35.83. On the men's side, James Senbeta, 27, of Champaign, IL, defended his title with another win, this time in 3:26.74 over five-time New Balance Falmouth Road Race champion Krige Schabort.
Both Gerhard and Senbeta plan to compete in Sunday's 7-miler, as well.
The Falmouth Mile is a Bring Back the Mile Featured Event, showcasing the best Miles across the country and throughout the year.
Falmouth Mile
James Kalperis track at Falmouth High School
Falmouth, MA, Saturday, August 16, 2014
MEN
1) Kyle Merber (NY), 3:56.45, $3000
2) David Torrence (CA), 3:56.95, $1500
3) Garrett Heath (WA), 3:57.19, $1000
4) Jordan McNamara (OR), 4:00.17, $250
5) Dorian Ulrey (AR), 4:00.34
6) Andrew Springer (DC), 4:02.23
7) Sam Chelanga (KEN), 4:02.89
8) Donn Cabral (CT) 4:03.25
9) Donnie Cowart (NC), 4:03.31
10) Pat Fullerton (MA), 4:08.94
11) Will Leer (CA), 4:09.81
WOMEN
1) Katie Mackey (WA), 4:27.78, $3000
2) Sarah Brown (CA), 4:28.69, $1500
3) Morgan Uceny (MA), 4:29.61, $1000
4) Brie Felnagle (WA), 4:29.83, $750
5) Amanda Eccleston (MI), 4:30.42, $500
6) Stephanie Garcia (VA), 4:31.25, $500
7) Gabriele Grunewald (MN), 4:36.32
8) Heidi Gregson (AUS), 4:38.15
9) Aisha Praught (OR), 4:44.43
DNF: Kimarra McDonald (JAM)
For complete results and more, go to: www.falmouthroadrace.com/elite-mile