Middle-distance phenom Mary Cain about to graduate to next level, college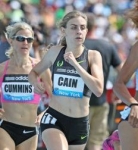 June 16, 2014
"At this point, I just kind of roll with it. I don't really know what to expect these next few years. And I kind of like that. I kind of like it being a little bit of a mystery. For me and for everybody."
By John Jeansonne, Newsday
So not everything and everyone are in Mary Cain's rearview mirror. Six days from taking her driving test, track and field's most recent prodigy got caught in early traffic in the Grand Prix women's 800 meters and finished fourth Saturday on Randalls Island.
Jamaica's 23-year-old Natoya Goule, the NCAA 800m champion for both LSU and Clemson, won in 2:00.28. Cain ran 2:01.67.
But Cain, 18, who already has left a pack of high school and age-group middle distance records in her dust -- from 800m to 5000m -- nevertheless declared herself happy with her effort in front of friends from her Westchester home.
"Getting boxed in like that, my actual 800 was great," she said merrily. "The problem is, I ran 820."
Continue reading at: www.newsday.com