Miler Jim Ryun's 50-year-old upset of Peter Snell still a magic moment in history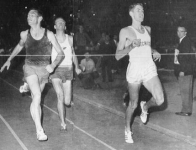 June 27, 2015
In an age when track & field was more popular in the U.S. than the NBA, NHL and what is now NASCAR, no one was a bigger star than high schooler Ryun
By Scott M. Reid, The Orange County Register
In early June 1965, Jim Ryun, an 18-year-old senior at Wichita's East High School, and his coach J.D. Edmiston (photo, below) treated themselves to an afternoon of deep sea fishing off the coast of Long Beach after Ryun had competed at the Compton Relays at the Coliseum the night before.
The afternoon went by with Ryun or Edmiston barely even getting a nibble on their lines.
"Not a thing," Ryun recalled this week.
It didn't matter. Three weeks later, Ryun returned to the West Coast to land the biggest catch of them all.
Saturday marks the 50th anniversary of Ryun's thrilling upset of New Zealand's Peter Snell, the 1964 Olympic 800 & 1500 meter champion, arguably the greatest single achievement ever by an American high school athlete and a pivotal race in the career of a man many still believe is the greatest middle distance talent the world has ever seen.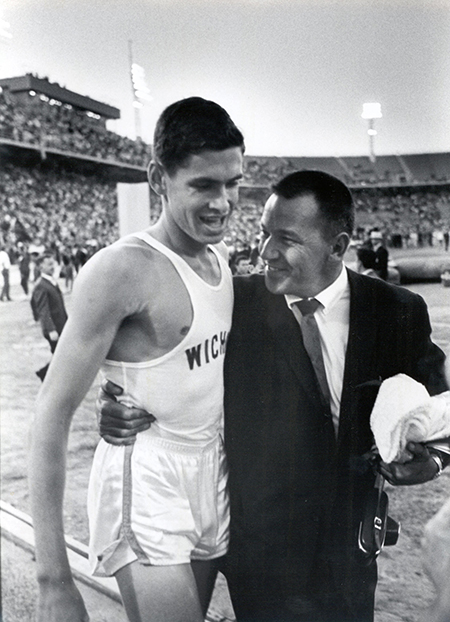 Ryun, who had two newspaper routes back in Wichita, one in the morning, the other in the afternoon, made headlines around the world when he held off Snell and American record holder Jim Grelle in a dramatic homestretch run at the AAU Championships at San Diego's Balboa Stadium, finishing in 3 minutes, 55.3 seconds to set a American record and a national high school mark that would stand for 36 years.
The San Diego victory signaled a record-setting spree that remains one of the most impressive runs in the sport's history. "Eventually he should break all the records," Bob Schul, the 1964 Olympic 5000 meter champion, predicted in the summer of 1965. "He's got more potential than any runner I've ever seen."
As a 19-year-old Kansas freshman the following year, Ryun broke Snell's 880 yard world record and then shattered Michel Jazy's Mile world record by more than two seconds with a 3:51.3 clocking in Berkeley.
"Today (Ryun)," Track & Field News wrote of the Berkeley race, "let us glimpse one concentrated jet of flame as it incinerated the world Mile record and scorched the very soul of Michel Jazy."
By the end of 1967, Ryun lowered his Mile mark to 3:51.1, leading from the gun and running virtually by himself for the final half-mile at the U.S. Championships in Bakersfield, and then added the 1500 world record to his collection with a 3:33.1 clocking at the Coliseum, still the largest 1500 record reduction in history. If he had been pushed at all in Bakersfield or had been running on one of today's high-tech track surfaces he certainly would have broken the 3:50 barrier. Even so, Ryun owned the Mile world record for nearly nine years until Tanzania's Filbert Bayi, trimmed a tenth off it in May 1975.
In an age when track & field was more popular in the U.S. than the NBA, NHL and what is now NASCAR, no one was a bigger star than Ryun. He appeared on the cover of Sports Illustrated seven times, more than Willie Mays, Wilt Chamberlain, Sandy Koufax or Jim Brown. Several of those covers were taped to the bedroom wall of a carpenter's son in Coos Bay, Ore., named Steve Prefontaine. At 19, he was the magazine's Sportsman of the Year. Ryun was simply one of the most famous athletes in the world, in the same stratosphere as Muhammad Ali and Pele. If he were competing today, Ryun would be as popular and as sought after by corporate sponsors and meet promoters as Usain Bolt.
But it was on that night in San Diego that Ryun first conquered the world. ESPN selected Ryun as the greatest high school athlete of the 20th century, ahead of Tiger Woods, LeBron James and Lew Alcindor, now Kareem Abdul-Jabbar.
Continue reading at: ocregister.com
U.S. Mile record progressions HERE.