Millrose Women's Mile Winner: 'A Really Fun Race'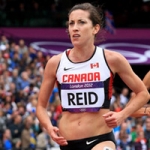 February 18, 2013
Sheila Reid had Mary Cain join her on victory lap.
By Peter Gambaccini, Runner's World
The headliners at Saturday's Millrose Games at the Armory were, as usual, Bernard Lagat, who set a new American indoor two-Mile record of 8:09.49, and this winter's biggest star and fan favorite, Mary Cain of Bronxville, New York, who came in second in a women's Mile field of seasoned pros and talented collegians and lowered her national high school indoor Mile record to 4:28.25.
The only woman to outgun Cain was Canadian Sheila Reid, a winner of multiple NCAA cross country and track titles at Villanova who is now a professional athlete. Reid ran last in her race for the first 600 meters, but moved up to the lead with two 200-meter laps remaining. She triumphed in 4:27.02. And then, very graciously and knowingly, she took Cain's hand and insisted they do a victory lap together. Which is just what the jubilant Armory crowd wanted.
Continue reading at: runnersworld.com