Miracle Mile's starter gun shell donated to Sports Hall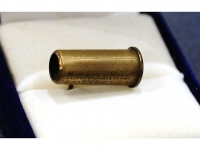 March 11, 2019
The tiny, rare artifact is engraved with the time & date of the legendary race between Roger Bannister & John Landy
By John Mackie, The Vancouver Sun
The Miracle Mile was the highlight of the British Empire Games in 1954. That Saturday, Aug. 7, an excited 35,000 people jammed Empire Stadium to watch the highly anticipated race, along with an estimated 70 million on television.
Vancouver police Sgt. Cookie Ryan had one of the best viewpoints for the race — he was guy that started it.
"It was 2:30 o'clock," said an Erwin Swangard story in The Vancouver Sun. "The stands hushed as the runner took their marks. Cookie Ryan, veteran Vancouver police officer, raised the gun.
"There was total silence. The gun barked. The field broke perfectly."
Ryan was proud of his association with the famous race, where England's Roger Bannister edged his Australian rival, John Landy, 3:58.8 to 3:59.6, the first time two men went sub-4 minutes in the same Mile race. He even kept a memento: the shell casing from the round that started the race.
The casing has been with Ryan's family since the race. But this week, his son Michael donated it to the BC Sports Hall of Fame.
"I've had this in my bedroom for years," said Michael Ryan. "It was a physical element that keeps me connected to my dad (who died in 1974). I recently turned 51, and I was overwhelmed with the feeling that I was being selfish…I could let it go and share it with people.
"If it can say 'Donated by the family of Howard Cook Ryan,' and his name is in this place, I think he'd be pretty proud."
Continue reading at: vancouversun.com