My First Sub-4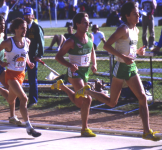 May 15, 1982
I see Randy Melancon in the infield. He looks me straight in the eyes, puts his head down and pumps his arms like a sprinter. I remember that like it was yesterday and I still thank him.
By Jim Hill
It sounds simple. Four laps of 440 yards, each just under 60 seconds. The third lap is the hardest. Everyone tells you so. Keep your form, your focus, don't fall asleep on the third lap. The last lap takes care of itself. It does, one way or another. The last 110 yards, or maybe even the last 440 yards is an all-out sprint. That's the way I preferred to do it, had to do it. When the real Milers cover the last 110 in under 13 seconds, the fake Milers have to sprint the whole last lap. That's me: a Mile imposter. A distance runner with just barely enough foot speed to break 4 minutes. Try to finish in 55 seconds, or 56 seconds, or anything under 60 seconds. The real Milers knew this. They'd bide their time and kick down the fake Milers, like me, in the last 110.
But not at the Twilight Mile on Saturday, May 15, 1982. My junior year as an Oregon Duck and the first time I was serious about breaking 4 minutes, a running career benchmark and the gold standard that most people understand in this country and elsewhere. I figured the hometown crowd and storied Hayward Field were worth a second or two. The Oregon singlet was also worth a second or two.
The weather that spring day was perfect. Very little wind, low humidity, about 70 degrees. Just hoped there was a rabbit to take us through two laps. Sorry, no rabbit, just me leading the local pro clubs and Oregon teammates. Lap one, 60 seconds, lap two, 2:00, lap three, 3:00, right on pace. Where are the pros? Where are my teammates? They were supposed to help with the pace. I never saw them. The big brass bell at the starting line rang and like Pavlov's dogs I lift my knees, swing my arms higher and lengthen my stride.
The crowd at Hayward Field gets loud, really loud. 220 to go and I see Randy Melancon in the infield. He looks me straight in the eyes, puts his head down and pumps his arms like a sprinter. I remember that like it was yesterday and I still thank him. Off the final turn, down the last 110, everything is a blur. Don't tie up, hold your form and lift your knees. I cross the finish line first. A quick look at the scoreboard: 3:56.41. I walk to the fence and give my mom a big hug. My first and only sub-4: what an indelible memory!
That 3:56 Mile was incredibly important and meaningful and it has certainly grown in importance over time. Most people know what a sub-4 Mile is, and means. It is hard to explain to a non-track person what some of the other impressive marks and accomplishments mean in the sport.
Jim Hill
#123 U.S. man to go sub-4, clocking the 5th fastest U.S. first sub-4 at the time
EDITOR'S NOTE: While at the University of Oregon, Jim Hill was a 4-time PAC 10 champion (twice in cross country, twice at 1500 meters) and a 5-time NCAA All American with world class PRs of 3:39.85 (1500m), 3:56.41 (Mile), 13:19.73 (5000m) and 27:55.23 (10,000m). Jim was also a member of the 1979 USA World Cross Country Team (12th place finish) and 1983 USA World Track & Field Team (5000 meters) in Helsinki, Finland.
In 1985, Jim Hill founded SportHill, an apparel company. When he left Virginia to run track and attend college at the University of Oregon, he quickly discovered that his usual cotton sweats and nylon shorts were no match for Oregon's cold, rainy weather. While running and racing in Europe, Jim continued to search for clothing more appropriate for Oregon's climate. Ultimately he made his own clothing to fill the void. His quest for technically better clothing continued into the outdoor market where he developed 3SP fabric—the fastest drying stretch knit fabric in the world.