No 'emotional crippling' if child comes second: Bannister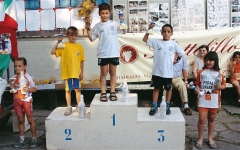 April 29, 2014
Sir Roger, the Olympian who rose to world fame after breaking the 4 minute Mile barrier in 1954, said he felt "terribly strongly" about the importance of physical education in school
By Hannah Furness, Arts Correspondent, The Telegraph
Children do not suffer emotional harm from coming second, Sir Roger Bannister has argued, as he spoke out for competitive sport in schools and condemned the selling of playing fields.
Sir Roger, the 1952 Olympian who rose to world fame after breaking the 4 minute Mile barrier in 1954, said he felt "terribly strongly" about the importance of physical education in school, adding that he felt changes in teaching were "worrying".
He said prejudice against competitive sport had grown in recent decades, as a result of suggestions that it was "bad for character". Sir Roger said experience had taught him children enjoy healthy competition, and rise to the challenge of a variety of sports to find the prospect of winning and losing "exciting".
Speaking at the Chipping Norton Literary Festival, Sir Roger added: "Children like competing. They don't suffer an emotional crippling for life if they come second or third in the egg and spoon race."
The former athlete also spoke out against the selling of school playing fields, and warned that the way PE is taught risks putting children off sport.
Continue reading at: www.telegraph.co.uk