Olympic champion Sir John Walker gets bronze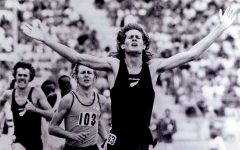 March 22, 2017
Statue of the first man to record a sub-3:50 Mile to be cast by sculptor Joanne Sullivan
By Radio New Zealand
A bronze statue of New Zealand athletics legend Sir John Walker is to be placed in Manurewa town center in Auckland.
Walker, who initially ran for the Manurew Harriers club, won the 1500m gold medal at the 1976 Montreal Olympics.
He had set a a world Mile record time of 3:49.4 minutes in Sweden in 1975, bettering the previous time of 3:51.0 set earlier that year by Filbert Bayi.
It was the first time that the someone had gone under the 3 minute, 50 second mark.
Continue reading at: www.radionz.co.nz