Oregon's original sub-4 minute Milers honored before Prefontaine Classic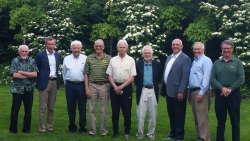 May 31, 2016
Sub-4 "is something you have on your resumé for the rest of your life."
By Lindsay Rossmiller, Run Blog Run
Prior to the only U.S. stop on the IAAF Diamond League in the western hemisphere, a group of former athletes familiar with Hayward Field met a block away from the Prefontaine Classic. Nine men who ran sub-4 minute Miles from 1956-1970 for the University of Oregon had a reunion and the Oregon Track Club invited the public to attend.
Jm Bailey (3:58.6, 1956), Keith Forman (3:58.3, 1962), Jim Grelle (3:59.9, 1962), Archie San Romani (3:57.6, 1964), Roscoe Divine (3:59.1, 1966), Wade Bell (5:39.8, 1966), Arne Kvalheim (3:59.4, 1967), Dave Wilson (3:56.2, 1967) and Steve Savage (3:58.2, 1970) all broke the 4 minute Mile barrier under famed Oregon coach Bill Bowerman. Eleven of his runners would break the barrier, including Dyrol Burleson (3:58.6, 1960) who couldn't attend for health reasons, and the late Steve Prefontaine (3:57.4, 1970).
Continue reading at: www.runblogrun.com