Orville Rogers, 99, hungers for more world records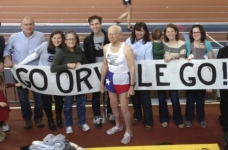 February 12, 2017
Oldest man to run 10 minute Mile: "I enjoy life... I'm very gratified to live this long and still be useful and to be able to help others..."
By Debbie Fetterman, Special Contributor, Dallas News
Dallas' Orville Rogers is a man on the go.
Rogers, 99, has been cleared by his cardiologist to compete in the Feb. 17-19 USATF Masters Indoors Track & Field Championships in Albuquerque. He holds 15 world records.
He doesn't anticipate setting any this year, but he wants to stay sharp for next year. There are only a couple of existing records in the 100- to 104-year-old division.
"If I'm still alive and kicking, I plan to enter about five running events and five field events at both the indoor championships and the outdoor championships so I can have 10, 15, 20 world records," he said at a book signing Saturday. "Who knows? That's blue sky thinking, but why not have good goals and endeavor to reach your challenges?"
Continue reading at: dallasnews.com