P3R's American Development Program Reaches New Heights in 2016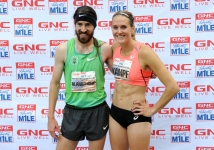 December 22, 2016
Record $92,500 in prize money awarded to 73 Americans at P3R events; ADP athletes also connect with local students in P3R's award-winning Kids of STEEL program
From P3R
PITTSBURGH – At P3R's signature events this year, a record number of 73 American runners competed and earned a record $92,500 in prize money as a result of its American Development Program (ADP). Dedicated to offering a competitive prize purse, providing unique community engagement opportunities and committing to a clean sport, the program, in its third year, has made Pittsburgh a destination for top Americans who have represented the U.S. on the global stage as well as those with dreams of making a World Championship or Olympic team.
"Since launching the American Development Program in 2014, P3R has tripled the number of American professional runners who compete in Pittsburgh," said Patrice Matamoros, P3R CEO. "The program has had tangible impact for the athletes and our events."
Highlights of the 2016 American Development Program include:
• $171,950 of prize purse money awarded at P3R events in 2016, including $92,500 to American athletes.
• Emily Sisson and Leonard Korir both ran the fastest 10 mile times by an American – 52:03 and 47:13, respectively – for 2016 at the EQT Pittsburgh 10 Miler, a PRRO Circuit event.
• More than 100 P3R alumni competed in the U.S. Olympic Marathon and Track & Field Trials in Los Angeles and Eugene, OR, respectively.
• Heather Kampf captured her fourth GNC Live Well Liberty Mile crown in 4:33.
• 2016 U.S. Olympian Ben Blankenship made his Pittsburgh debut and won the GNC Live Well Liberty Mile, clocking 4:02.
• P3R continued its sponsorship of Team USA Minnesota, a post-collegiate distance training center focused on developing Olympians and national champions.
Continue reading at: p3r.org