Past Champions Miller, Kampf Returning to Medtronic TC 1 Mile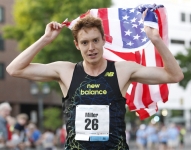 April 14, 2015
10th edition offers $25,000 prize purse plus $10,000 event record bonuses; host of USA 1 Mile Road Championships again; second stop on Bring Back the Mile Grand Prix Tour 2015 set for Thursday evening, May 14 on new course in downtown Minneapolis
From Twin Cities In Motion
Hometown star Heather Kampf and University of Wisconsin alumnus Craig Miller (above right, Competitive Image) will return to downtown Minneapolis hoping to repeat the USATF 1 Mile Road Championship and Medtronic TC 1 Mile victories each earned in 2012. The duo headline the national championship fields racing for a $25,000 prize purse and a pair of $10,000 event record bonuses at the 10th edition set for Thursday evening, May 14.
The event is expected to draw more than 3,000 runners to downtown Minneapolis for a full evening of racing. This year the event moves to a new course, starting near the Parade Athletic Fields, racing by the Basilica of St. Mary on Hennepin Avenue, and finishing in the heart of the Hennepin Avenue Theater District near the 6th Street intersection.
Kampf, 28, a Rosemount native who won an NCAA 800m title at the University of Minnesota and now trains with Team USA Minnesota, outran the 2012 Medtronic TC 1 Mile field for her lone event victory and the first of two USA 1 Mile Road crowns. In 2013, Kampf, who owns at 4:21.39 personal best for the Mile, finished third at the Medtronic TC 1 Mile. Last year's event was cancelled due to severe weather.
In the 2012 men's race, Miller ran 4:04.3 against a headwind to claim his Medtronic TC 1 Mile and USA 1 Mile Road crowns. Miller, 27, who sports a 3:53.1 personal best for the Mile, finished 6th at the 2013 Medtronic TC 1 Mile. He is also a two-time winner of the Minnesota Mile in Duluth.
"Heather and Craig are important athletes in the history of this event and we're thrilled to have them committed to running with us again," Twin Cities In Motion Executive Director Virginia Brophy Achman said. "I'm confident both of them can make a run at the $10,000 event record bonuses."
The men's event record is 3:56.1 set by 2008 Olympic silver medalist Nick Willis in 2013, while the women's standard of 4:30.8 was established by Sara Hall in 2011.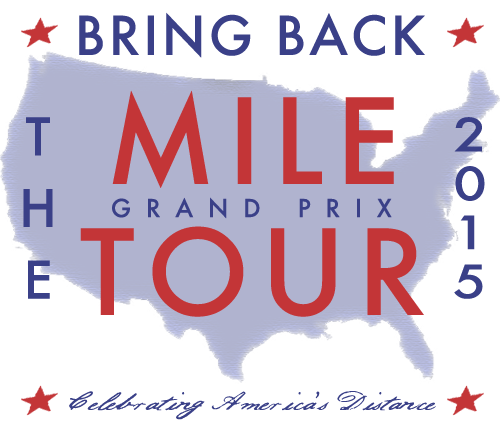 The USA 1 Mile Road Championships return to the Medtronic TC 1 Mile for the first time since 2012, part of a two-year designation from the sport's governing body. USATF champions will take home $5000 checks. The event is also the second stop on the Bring Back the Mile Grand Prix Tour which offers a $7500 grand prix purse.
In the coming weeks, Twin Cities In Motion will note additions to the USATF Championship field and make other announcements about the event via its Twitter feed, @tcmarathon, or with additional media releases.
The Medtronic TC 1 Mile, organized by Twin Cities In Motion, features an evening of races for runners of all ages and abilities. Action kicks off at 6:50pm CDT and culminates with the USATF Championship races at 7:54pm (women) and 8:06pm (men).