Pre-Olympic Trials 2016 Q&A with 2012 Olympic silver medalist Leo Manzano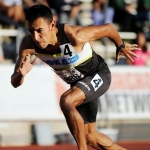 June 30, 2016
First of all, we have to count our blessings every day. Next, we always try and find creative solutions to our problems no matter what they may be. Always stay positive.
From HighFiveEvents.com
Staying Vertical's William Dyson of High Five Events, sat down with Leo Manzano, 2012 Olympic 1500 meter silver medalist, to talk about training updates, how he handles adversity, and what his plans are for the near future (spoiler alert: it involves Rio).
William Dyson: When I first met you there were no sponsorships. Now you have HOKA ONE ONE, Coca-Cola and Timex. How much of a difference does that make during training and life in general?
Leo Manzano: It makes a big difference, without sponsors most athletes would be out of the sport. Sponsors allow us to focus more on our training, connect better with our followers, and provide moral and financial support.
WD: How confident are you in your training?
LM: I feel very confident in my training, I have a lot of faith in my coach and in the program that I have been in for the last couple of years. It's all about working hard and smart. The goals always come.
Continue reading at: http://highfiveevents.com