Pride of Pass Christian, Cory McGee, eyes 2020 Tokyo Olympic berth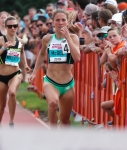 November 15, 2019
"This has been my best year yet so my trajectory is good. And I'm still getting better."
By Karen Abernathy, WLOX
PASS CHRISTIAN, Miss. - Cory McGee is one of the best 1500 meter runners in the country and her sights are now set on the U.S. Olympic team. We caught up with the South Mississippi native before she headed back to training in Colorado.
Her work ethic and determination are impressive, and her training is strenuous and consistent.
So even when she's officially on break from training and at home in Pass Christian, it's still not easy for her to relax completely.
"It's hard for me to relax since I came home," she laughed. "I've painted half the house. I can't relax."
The stakes are too high to let her guard down. At 27-years-old, Cory's running better now than she ever has and knows she has to take advantage of every moment.
"This is when you peak, late twenties and early thirties, so all your work culminates and you start to run your fastest," she explained. "Your body is really strong."
Strong enough to win some of the toughest competitions.
"Right now, I'm among the top ten in that event in the U.S. I finished third at the indoor national championship this year."
But the work to get to this level has been grueling. And while her race is the 1500 (100-plus yards less than a Mile), she logs 70 to 80 miles a week training in Colorado with top athletes from around the world.
"We could be running in a snow storm, early in the morning, and no one complains, even at 9,000 (feet) altitude," said Cory. "We're all working for our goals and we help each other."
Growing up with two athletic parents and three sisters who would all become division one athletes, Cory learned from a young age to work hard if she wanted to achieve her goals.
Continue reading, includes video interview, at: wlox.com