Pro Q & A: Brook Handler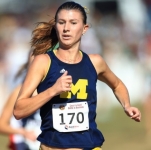 May 06, 2016
People who only know me as a runner may not know that I love school (I studied chemical engineering and just finished my Master of Management at the University of Michigan) and that I love baking multiple layer birthday cakes!
From Twin Cities In Motion
Brook Handler turned heads last month as the surprise winner of the BAA Mile, held in conjunction with the Boston Marathon. The 2015 University of Michigan edged two-time Medtronic TC 1 Mile champion Heather Kampf for the biggest victory of her professional career. We caught up with Brook who will tangle with Heather and the rest of the USATF 1 Mile Road Championship field at the Medtronic TC 1 Mile on Thursday evening, May 12.
How does winning the BAA Mile change your mindset and goals for the Medtronic TC 1 Mile? What was the key to your success in Boston?
The win in Boston definitely gives me confidence to try and stay with anyone in the race. It reduces that "I don't belong here" feeling that can creep into your mind so easily during races when you are moving from one level of competition to the next, which is an easy feeling to get in that first year out of college. I think my key to success in Boston was a specific race plan. I felt relaxed and ready to execute and I got lucky with good positioning.
Continue reading at: www.tcmevents.org