Runners inspired by Miracle Mile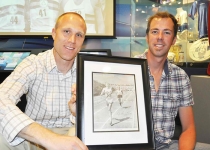 August 06, 2014
"We read books on Landy and Bannister and knew of the B.C. runners who'd (run the Mile in under 4 minutes) in the past. When the hype becomes that engrained in you, you want to be part of that." - Graeme Wells
By Don Fennell, Richmond Review
It was thought to be impossible.
No human, they said, could ever run the Mile in under 4 minutes. And before Roger Bannister achieved the feat in early 1954 no one had. But it was Bannister's showdown with John Landy that summer in Vancouver that remains etched in time.
On the eve of the 60th anniversary of the Miracle Mile, an event heard around the globe, it still gives Doug Clement goose bumps.
"The 1954 British Empire Games (now the Commonwealth Games) was unlike any experience I had an as international runner for Canada," says Clement, who six years later co-founded, with his wife Diane, the Richmond Kajaks Track and Field Club. "Being in my hometown would have been enough, but having the Mile and marathon on the same day topped off a memorable day. Millions watched and heard the event around the globe and the historic meeting of the only two men who had broken the 4-minute barrier at Empire Stadium produced a world-wide dramatic moment in all of sport."
Sports Illustrated made it a lead story in their debut issue Aug. 16, 1954, and the defining moment of the race in which Landy (the Australian who in May had eclipsed Englishman Bannister's mark set 46 days earlier) looks over his left shoulder while Bannister passes on the right is forever frozen in the bronze statue outside of the Pacific National Exhibition grounds. Both runners completed the race in under 4 minutes—Bannister in three minutes, 58.8 seconds and Landy in 3:59.6. Often forgotten or ignored, Canadian Rich Ferguson was third in 4:04.6.
In the last 60 years many more male athletes have broken the coveted 4-minute barrier, though no female has yet done so. Of the fewer than 20 British Columbians who have ever done so, two are former Richmond Kajaks—Ryan Hayden and Graeme Wells.
Continue reading at: www.richmondreview.com