Simpson, Houlihan lead parade of Olympians headed to Drake Relays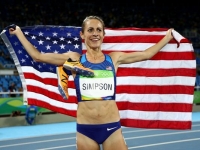 April 14, 2017
Iowa natives part of "one of the best women's 1500 meter fields we've ever assembled."
By Cody Goodwin, The Des Moines Register
A slew of local athletes and plenty of Olympians will make their way to Des Moines in just a couple of weeks.
New Drake Relays director Blake Boldon said on Wednesday that fresh events and familiar faces are on tap for the 2017 Drake Relays, scheduled for April 26-29. He announced fields for the women's 1500 meter run, high jump and the men's 1500, all of which feature world class athletes.
The women's 1500 features one of those familiar faces in Webster City native Jenny Simpson, a three-time Olympian and 2016 bronze medalist. A five-time Drake Relays champion, Simpson will run against, among others, Sioux City's Shelby Houlihan, another 2016 Olympian.
Simpson and Houlihan will compete against the likes of Kate Grace, the top-ranked 800 meter runner in the country last year; Alexa Efraimson, a junior world medalist; Brenda Martinez, a 2016 Olympian; and Charlene Lipsey, a five-time All-American from LSU.
"That field will be one of the best women's 1500 meter fields we've ever assembled," Boldon said.
Continue reading at: www.desmoinesregister.com