Sir Roger reminisces about breaking Mile record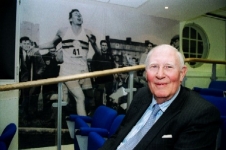 May 09, 2015
"We would always have a reunion with our wives and meet up on the anniversary. That's what it used to be. Unfortunately I'm alone now."
By Oxford Mail
Sir Roger Bannister celebrated the 61st anniversary of the day he broke the 4 minute Mile barrier in Oxford.
He made sporting history on Thursday, May 6, 1954 at the Iffley Road athletics track which now bears his name.
Sir Roger, now 86, was the first man to run a sub-4 minute Mile, managing it in 3 minutes and 59.4 seconds.
Now the silver stopwatch that marked the historic moment is being sold at auction at Sotheby's in London on May 18.
Speaking to the Oxford Mail Sir Roger said: "I was reminded of the date by my dear wife at breakfast.
"I'm extremely happy. I have been looking through old photographs of the race.
"I had lovely telephone calls from my family and other people from New York and Switzerland."
Continue reading at: www.oxfordmail.co.uk