Staples' Henry Wynne Cements Status As League Legend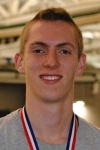 March 14, 2013
"You're not going to see any one like him for a while. I can't wait to see what he does in college."
By Tom Renner, Westport Daily Voice
WESTPORT, Conn. – Until this year, former Westhill High School runner Kevin King had been the gold standard in Fairfield County Interscholastic Athletic Conference distance running. But after this winter, the new king of the 52-year-old league is Staples High senior Henry Wynne.
Wynne won two gold medals last weekend at the New Balance Indoor Nationals. He won the Mile and anchored the distance medley relay with a brilliant come-from-behind leg. He finishes his indoor career with five individual league records in every distance from the 800 to the Mile. He is also on four relays that hold Staples school records.
Undoubtedly more will come in the outdoor season. One of the most treasured is King's 1600 meter time of 4:07.26, set in 1981. Wynne, who will attend the University of Virginia, could also wipe out the 800 record of 1:50.86 set by Danbury's Parker Boudreau in 2008. Two longtime Staples records set by Tom Sheeran in 1989 (1600 and 3200) could also fall. This winter, Wynne erased two longtime indoor records in the 800 (by Westhill's Norm McHugh in 1986) and 1500 (by King in 1980).
Wynne's magnificence is not lost on longtime track observers. Some feel he might be the best the league and even the state has ever seen.
Continue reading at: westport.dailyvoice.com