Teen Star Mary Cain Feels Renewed by Move Home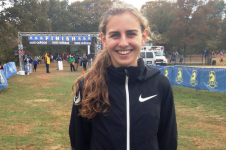 October 26, 2015
Junior world champion and U.S. Mile record holder discusses in detail her earlier struggles and new found love of running.
By Chris Lotsbom, Race Results Weekly
Signing autographs and posing for pictures after placing third in the Mayor's Cup Cross Country meet in Boston on Sunday, Mary Cain wore the grin that was seen almost weekly in 2014, when she took the American track scene by storm and won the world junior 3000-meter title. Her demeanor was a far cry from that of the young woman who walked off the track dejected after placing eighth at the USA Track & Field Championships in June.
"I'm not the down Mary Cain in interviews any more!" she said. "I'm super happy!"
Since moving back to her family home in Bronxville, New York, earlier this year, Cain said, she feels a new sense of energy. With the move from Portland, Oregon, Cain, 19, has gone back to the basics, focusing on why she fell in love with running in the first place. She's going back to the things that made her arguably the top prep runner in American history, and a factor in races against women 10 years her senior.
Cain still wears the black-skulled Nike Oregon Project uniform with pride. Some people had wondered if Cain and coach Alberto Salazar were growing apart after a tough 2015 track season, culminating with her move back to Bronxville. But Cain said she has confidence in Salazar and talks to him daily, relying on him for workouts and advice. The only change is being thousands of miles apart, she said.
Continue reading at: runersworld.com