The 3:49.4 Special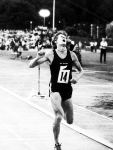 August 25, 1975
He had promised to go for the Mile record, and New Zealand's John Walker delivered, smashing the old mark by 1.6 seconds!
By Kenny Moore, Sports Illustrated
As Roger Bannister had 21 years earlier, John Walker worried about the wind. He had talked the officials at the meet in Goteborg, Sweden into changing the distance of his race from 1500 meters to a Mile, promising an attempt at the world record of 3:51.0 held by Filbert Bayi. "It was the one night I was going to do something," Walker said afterward. "Throughout this European tour I had been annoyed with myself. I'd won a lot and accomplished nothing. But then in the morning it began blowing quite hard. I watched the flags, the trees bending. It worried me."
Before the 8:45pm race on Tuesday, Aug. 12, Walker spoke to Goran Sowemark, a Swedish 800 meter runner who was to be his pacemaker for the first two laps. Walker wanted the half-mile run in 1:55, and he wanted it done smoothly, without a nervous sprint over the first half-lap. Two weeks earlier, the 23-year-old Walker had run 1500 meters in Oslo, blazing the first 200 in 25.4, the first 400 in 54 seconds, and had held on well to clock 3:32.4, only .2 from the world record (also Bayi's) for that distance, and according to track statisticians the equal of a 3:49.4 Mile. Now, he reasoned, a more economical distribution of effort ought to yield a good Mile. Since he had run a 3:52.2 in Stockholm in July, defeating Marty Liquori, and did not consider it much of an accomplishment, a good Mile had to mean a record.
As Walker warmed up, the wind began to die, falling off to five meters per second.
Continue reading at: sportsillustrated.com
Mile world record progressions HERE.