The Gold Medalist: Matthew Centrowitz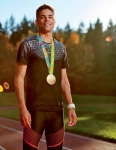 January 21, 2017
For 2017, the history-maker is targeting another medal at the World Championships in London as well as the 1500 meter U.S. record.
By Erin Strout, Runner's World
When Matthew Centrowitz crossed the finish line of the men's 1500 meter final at the Rio Olympics, he was in shock. And so was the rest of the world. The 27-year-old from Portland, Oregon, had just won gold—the first for an American in that distance in 108 years.
"I was thinking, Are you kidding me?" he says. "It was surreal. A lifelong dream accomplished already? It's hard to put into words."
His gold was part of a historic haul of 32 medals by the U.S. track & field team—the most Americans have won during a non-boycotted Games since 1932. It was Centrowitz's second Olympics—he was fourth in the 1500 in 2012—and capped a year in which he won the 1500 meter world indoor titles, the indoor Millrose Games Wanamaker Mile and the 1500 at the U.S. Olympic Trials.
The Rio final was slow and tactical, with Centrowitz in full control of a high-caliber field that included two past Olympic champions. He won in 3:50.00. By comparison, his best time in the event is 3:30.40. "To make it the race that I wanted and take it by the horns, that's what I really liked about it," he says.
Continue reading at: runnersworld.com