"The Jarrow Arrow" – Cram's Top 5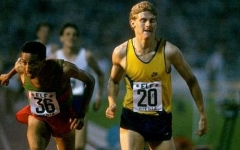 January 26, 2017
"It was a cat-and-mouse affair – we both started off running at the back of the field. I beat him by little more than the thickness of a vest."
By Sam Burke, Runner's Tribe
The 1980s were an era in which male middle distance running was dominated by Britain. The British dominance was total and overwhelming, much like the stranglehold that the Kenyans have held over the 3000m Steeplechase or the Ethiopians have over the 10,000m during the Gebrselassie-Bekele era.
In 1983, at one stage over the 1500m, Britain was the owner of the Olympic Champion (Seb Coe), World Champion (Steve Cram) and World Record holder (Steve Ovett followed by Steve Cram). The argument as to who was the best out of Coe, Ovett and Cram will last the test of time, none to say, it isn't a debate with a finish line.
Steve Cram was born in Jarrow, Tyneside, England in 1960, with a whole lot of talent. Over a 19 day period during the European summer of 1985 Cram, nicknamed "The Jarrow Arrow", set the running world alight, clocking world records in the 1500m, 2000m and the Mile. Still considered one of the best middle distance runners to ever live, Cram was honourably the first man to run under 3:30 for the metric Mile (1500 meters). Cram's championship highlights include winning 1500 metres gold at the 1983 World Championships, winning three Commonwealth Games gold medals, two European Championship gold medals and silver at the 1984 Olympic Games 1500m.
Continue reading at: www.runnerstribe.com