The Last Mile: My Most Memorable Mile Essay Winner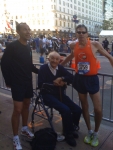 June 14, 2012
Poignant story to receive Bring Back the Mile Lap 4 VIP membership package including Jim Ryun signed limited edition 3:59 t-shirt
SANTA BARBARA, Calif. – Bring Back the Mile held its "My Most Memorable Mile" essay contest from May 6 in honor of the 58th anniversary of the first sub-4 minute Mile by Roger Bannister to June 1, the 55th anniversary of the first sub-4 minute Mile by an American, Don Bowden. We asked Mile Maniacs to tell us their favorite Mile stories in 359 words or less with a chance to win a BBTM Lap 4 Membership including an exclusive Jim Ryun signed 3:59 'I AM THE MILE' t-shirt.
Submissions came from all ages, including military veterans, personal trainers and authors as well as Tim Layden, Senior Writer for Sports Illustrated, and after careful deliberation, it was the story of a Miler, his high school coach and a reunion thirty years later on the streets of New York City who is our Grand Prize Winner.
"First, we thank and celebrate all of those people who submitted their 'My Most Memorable Mile' essays. Clearly, the Mile means something special to them, and their wonderful stories – in 359 words or less – captured Mile moments that were poignant, inspiring and sometimes funny, and one was uniquely historic," said Ryan Lamppa, Bring Back the Mile Founder. "The winning essay by David Cannon about the 2008 Fifth Avenue Mile and his high school coach John Schlogl touched our hearts and minds."
We also congratulate our four runner-ups who will earn a BBTM Lap 3 Membership, which includes our limited edition 3:59 'I AM THE MILE' t-shirt:
Runner-Ups
All the "My Most Memorable Mile" entries are posted at http://bringbackthemile.com/iam. You may also continue to submit your favorite moments, stories and everything Mile-related for your chance at being a featured Mile Maniac.
The Mile holds a special place in Track & Field and beyond because no running distance, or field event for that matter, has the history, the appeal, the "magic" of the Mile. The first sub-4 minute mile by Great Britain's Roger Bannister in 1954 is regarded as the greatest individual athletic achievement of the 20th century (see Forbes November 18, 2005 article HERE), and no other event has produced an equivalent of the sub-4 minute Mile standard in the sport, in the media and in the public's mind.
Over the past decade, unfortunately, the Mile has lost some of its luster, and thus, the Bring Back the Mile mission is: To return the Mile to prominence on the American sports and cultural landscape by elevating and celebrating the Mile to create a national movement.
Contact media@bringbackthemile.com for more information.