Tim Layden (SI.com): A Meaningful Number to Anyone Who Asked
May 15, 2012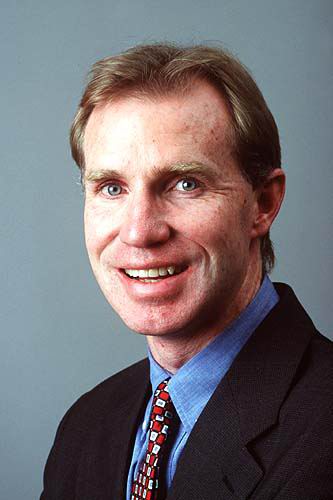 Sports Illustrated's Senior Writer, Tim Layden, submitted his most "Memorable Mile" on SI.com. Layden, who joined the magazine in March 1994, primarily writes about the NFL, Olympic sports (chiefly track & field in the summer and alpine skiing in the winter) and horse racing, but has written about a wide variety of subjects for the publication and for SI.com.
All the miles were important back then. The ones accumulated as part of long runs. The ones built through intervals. Early in the morning and late at night. Bundled up in February and stripped down in July. Alone and with friends. Races: Too many to count, because this was the 80s and people ran for PRs, not for causes (not saying this was wise or kind, it just was). But one Mile defines all the others.
It was run on the evening of June 20, 1983 at a high school track in upstate New York. I was a 27-year-old newspaper reporter, single and beholden only to deadlines and workouts. Had played football and basketball and run track (400 meters, 53.5, minimal training) at a little high school where there wasn't much competition. Made a D3 basketball team in college and mostly sat on the bench. Always wondered about running. Decided to try before the legs were gone.
There was a busy rec track scene back then. On Monday nights the Mile came first and sometimes where would be 50 or more people on the line, from little kids to septuagenarians. I won the race in 4:21.2, which made me forever faster than slow runners and forever slower than fast runners. Went out in 63 and came back in 63; staggered through a 2:15 in the middle. Outkicked some college kids whom I had covered, thus scoring invaluable street cred for my beleaguered profession, which is often associated with slovenliness.
But the best part was owning a number that would always be meaningful to anyone who asked. I remember the last few strides, hearing the watch woman yelling out times: "Four-twenty, four-twenty-one, four-twenty-two...." It was super painful. (Years later a young writer would ask a track athlete we were both interviewing: "What do you mean when you say you were hurting?" and I thought, Well that I know. Past the line, I slowed to a walk, waited for the pain to subside. I leaned on a fence at the end of the track and, I remember this vividly, gently pumped my fist. Nobody else noticed. And I never ran faster.