A Final State Meet Mile in Oregon
February 08, 2014
Peter Thompson, Vice President of the British Milers Club and Eugene, OR resident shared the following piece of remarkable Mile prep history. The image right was brought to his attention by Scott Krause who was at South Eugene HS in 1977.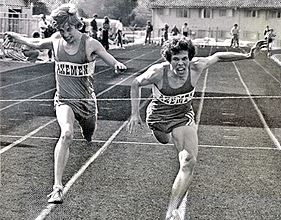 The Axeman of South Eugene High School represented by Billy McChesney (pictured left) and Dirk Lakeman (pictured right), in a photo finish, compete in one of the last regular high school Mile races in Oregon at the District 5AAA track meet. The following year Oregon and Washington High Schools moved to the 'metric Mile' distance of 1500m. The following quote was attached to the dramatic finish line photograph and attributed to K.C. Taylor.
"I stood inches from this finish, Dirk hit the deck HARD... he beats Billy in the last Mile they ran in 1977... [the following year, they started racing the 1500]... unsure of the official time of the race, 4:07? Dirk came back to win the 880 and Billy of course won the 2 Mile... best high school Mile of all-time! Dirk pushed Billy out into lane 5!" #MileMagic
The Axeman in the late 1970s held national records in the High School 4-Mile Relay (17:06.6) as well as the Distance Medley (10:01.6y). Lakeman, who ran the national prep Mile best for 1977 with his 4:04.9 at the Prefontaine Classic, continued to hold the Oregon state Mile record until 2004, when Galen Rupp ran 4:01.8 at an event to commemorate the 50th Anniversary of Roger Bannister's historic first sub-4 minute Mile.