The Adam Brown Road Mile (formerly Owens Road Mile)
August 14, 2013
28 years ago David Samuel decided to organize a one Mile foot race down Owens Road, just west of Hot Springs, Arkansas. David sent in an account of how it all came together and the impetus to its most recent name change, honoring Adam Brown, a Navy SEAL Chief and local Lake Hamilton High School graduate. Brown was killed in action in Afghanistan on March 17, 2010 and a foundation, Adams Legacy, has been created to support a variety of charities in his name. The Adam Brown Mile is August 24, 2013 and more information can be found here.
August 15, 2013 note - The 2014 GO! Mile, held in Little Rock, Ark. was recently named the RRCA 2014 National Championship, providing two great upcoming Mile opportunities in Arkansas!
2013 Race Update - David Samuel (70 yrs young) broke his 10 minute Mile goal, racing to a 9:36. In the Senior High School Boy's Mile, Cain Farman edged Bror Thirlon by two seconds in an exciting race winning in 4:45 (pictured right).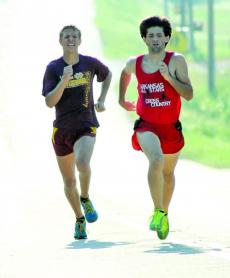 My idea of organizing a one Mile race came to me while training near the Lake Hamilton High School campus on a long straight downhill stretch of the Owens Road. It seemed to me that would be a great opportunity to measure a really fast Mile run. My son and I took a 100' tape and measured 5,280' down the middle of the road. I painted the start and finish along with marks at the quarter, half, and 3/4-mile spots. Just like that the Owens Road Mile was born. I worked up an entry form, posted it on the state running calendars for a November 1986 running. 18 runners showed up with Coach Karl Koonce winning the first one in 4 minutes, 43 seconds. In fact, the coach at age 35 still had the Arkansas Class B state record for the Mile. Coach loved the race and took over as the Race Director about 15 years ago. He still uses the race to motivate his cross-country teams as they begin their fall training just prior to school starting in late August.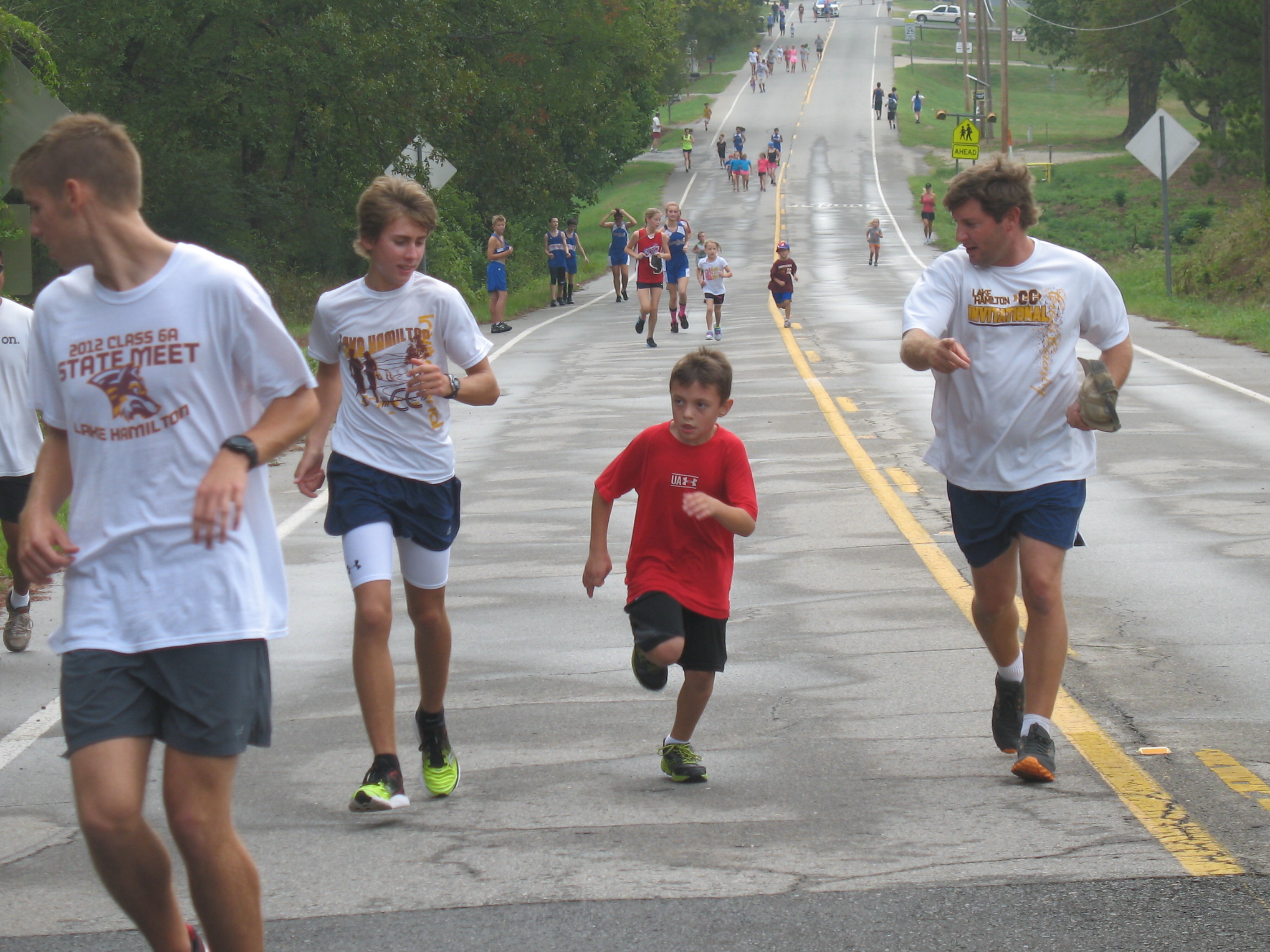 It is great to see the effort known as "Bring Back the Mile!" We now have two races in Arkansas that offer one-mile heats (the other, the Go! Mile held in June).
I still go back every year and run the Adam Brown Mile. It brings back memories of my many training days in the late 1980s with sub-six minute runs down Owens Road so I would have a shot at finally breaking five minutes in the Mile. I had run 5:05 as a high school junior in Marlow, Oklahoma. However, as a senior I focused on the 880-yard run instead of the mile. In the inaugural Owens Road Mile, I ran 5:03 and in the 3rd running a 5:02. A head injury from a vehicle accident in 1990 ended my fast running and although still able to run long distance today, I will never be able to run all out on the mile. However, I will be there this August 24 as a 70-year old. I will be there to break five minutes, but it will not be at the finish line but at the half-mile mark so I can complete the Mile in ten minutes or less. Although I have adjusted my goal, I still love the challenge of running the Mile.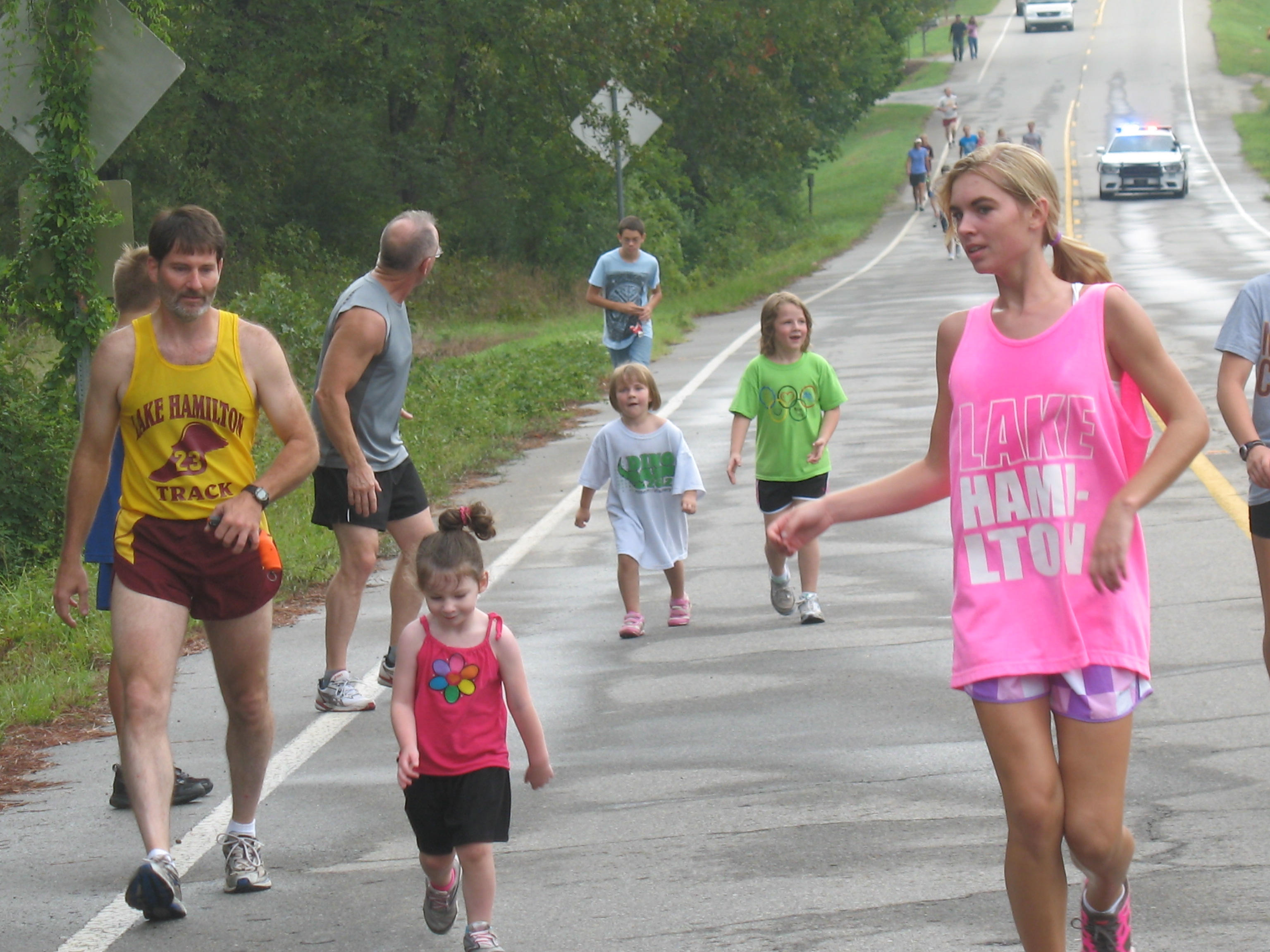 One of Arkansas' top senior runners, David Williams, recently responded:
"I had to do a lot of persuading to convince Roy Drew that [the Mile] was a lot of fun and PR time for such a short period of pain and discomfort. Brian Polansky and I used to go to the track about 6 weeks before this race and run miles for time. We would start out running maybe 5:21 and would drop that below 5:00 by the 6th week (we were old even then). Then, I got to briefly hold the state record for old guys at 4:40 before Lowry Foster turned 40 a couple of years later and ran 4:35. But, I still have a big headline article in the Arkansas Democrat that says, 'Williams breaks record.' So, go do it! Set your mile PR. You'll be glad you did 20 years later. I am."