Sarah's Magnificent Mile
October 15, 2013
Earlier in September, Sarah Witt joined Bring Back the Mile as a Mile Maniac and wrote a great entry for BBTM on What the Mile Means to Her. We then had the opportunity to speak to Sarah and get a sense of just how passionate she was for the Mile and the enthusiasm for the Mile she organizes in Raleigh, NC -- The Magnificent Mile. Sarah is an inspiration to any runner, fan and especially those fighting motor neuron diseases. Enjoy!
By Sarah Witt, Director, The Magnificent Mile
My passion for running started around the time I turned 12. That's when I started running to get in shape for basketball and realized that running itself was amazing and I was pretty good at it. I went on to run track and cross country in high school and was a walk-on at my alma mater Davidson College. I lasted until my sophomore year when my knee refused to cooperate with the level of training college sports demands. Though never a superstar, the Mile was my favorite event.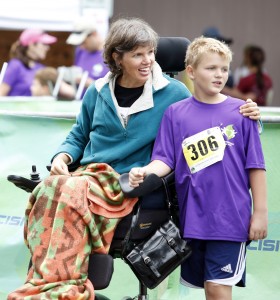 My best time was a 5 minutes, 55 seconds when I was a junior in high school. That was in 1984 and my room was covered in pictures of Mary Decker Slaney. Yes, she cried and behaved badly at the 1984 Olympics, but she was my hero. And she could kick some serious butt in the Mile. Many years and many miles later, my running came to a halt.
In 2004 I began to have strange sensations on my left side and I would feel while running I was dragging my left foot, not to mention dealing with excruciating pain in my hip. Ultimately, I was diagnosed in 2005 with a motor neuron disease similar to ALS or Lou Gehrig's disease. It's called PLS, it has a much slower progression and is far less evil than ALS. However, it's pretty devastating for a person who has been an athlete for their entire life.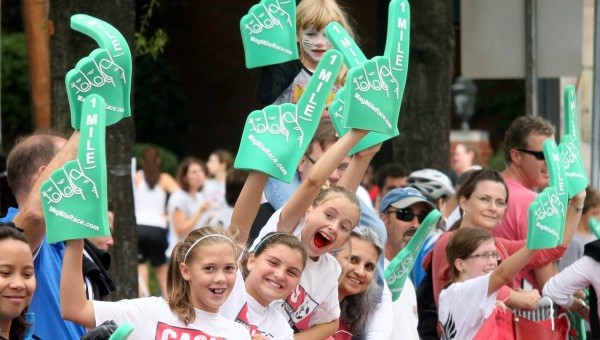 Once the shock of my diagnosis wore off, I started to think about how I could create something positive out of my personal situation. I wanted to put on a race, I wanted to raise money for research. I realized that if I were still able to race, I would want to race a Mile. And, thus, in 2006, The Magnificent Mile Race in Raleigh, North Carolina was born.
The beauty of the distance is that it has such broad appeal. Serious competitors love it because it's one of the only opportunities they have to race a Mile. Those just beginning their fitness journey love it because it's a manageable distance. People with physical disabilities can manage it as well, whether they have leg braces, walkers, or wheelchairs like myself. I love the mystique and glamour of the Mile. It's a distance that has allowed me to stay connected to a sport that defined me for most of my life.
For a recap of the 2013 Magnificent Mile, CLICK here.