Girls Can Run Too: Indiana's First Female Sub-5 Minute Mile
December 22, 2012
In 1977 Diane Bussa (now Gentry) became the first girl in Indiana to break the still coveted 5-minute Mile barrier when as a sophomore she clicked off a 4:58.2 at a dual meet. The girl's HS Mile record would go on to be 4:43.1 that year, set by Julie Shea (now Sutton) in North Carolina, but Diane's feat was still a major milestone for the Hoosier state and honored by Sports Illustrated with a "Faces in the Crowd" slot. Diane went on to achieve success at longer distances winning the Old Kent River Bank 25K time five times and was crowned the 1987 USA 25K champion at the same event. Diane now lives in Denver, CO and has a 13-year old daughter who plays soccer and basketball. She works at a "wonderful" K-12 school, the Colorado Academy, and astoundingly still runs twice a day! Diane wrote in to us saying that she "loves to run, but no longer races."
I began running at the age of 9, and was hooked after my first 440 race, which I won, and was fortunate enough to discover my gift at such a young age. I went on to run collegiately and on the professional road racing circuit for 15 years. At the age of 51, I still continue to run twice a day, and have found running to be the one thing that is a constant in my life, and always keeps me centered.
So, how does this relate to the Mile?
Growing up in Indiana in the 70s, the longest distance that a high school girl could run was the Mile. While I would later discover that I was physiologically better suited for the longer races, I put my heart and soul into what was placed before me at the time. In May of my sophomore year in high school, in a dual track meet on a perfect spring day, at the tender age of 15, I became the first girl in Indiana to break the five-minute Mile. It truly changed my life and reinforced in me that this was what I was meant to do. It was chronicled in Sports Illustrated Faces in the Crowd and to this day remains one of my proudest achievements.
That is why I am the Mile. Thank you for your quest to bring this wonderful and historic distance back into the limelight. - Diane Bussa Gentry
Great story, Diane, and brava!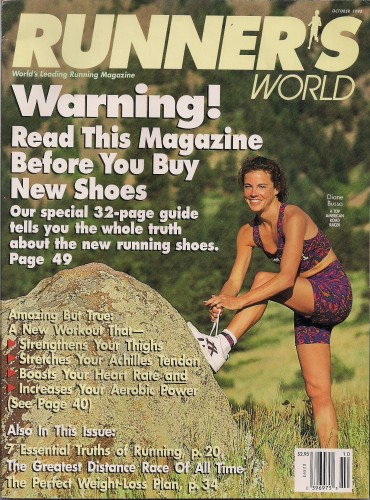 Diane was featured on the October 1993 cover of Runner's World.